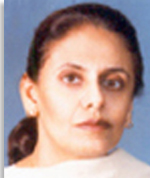 Did Master in Psychology, University of the Punjab with Distinction year 1986, Did Masters in Clinical Psychology from Institute of Psychiatry, Kings College London, London, UK year 1988, did PhD in Clinical Psychology, University of Health Sciences, Pakistan, year 2008, did Fellowship of International Medical Science Academy (IMSA) India, year 2008, did Post Doctorate in Clinical Psychology, Institute of Psychiatry, Kings College London, UK year 2009. Has been awarded with the status of Chartered Clinical Psychologist by British Psychology Society, UK. Still the only chartered Clinical Psychologist in Pakistan. Full Member of British Psychology Society Since 1994. Member New Zealand Board of Psychologists and more… Currently Elected President, Pakistan Association for Clinical Psychologists.
Worked as Clinical Psychologist in Health Dept. for Several years, founder of Psychiatric rehabilitation Centre at Punjab Institute of Mental Health, Worked as the first Student Counselor of LUMS for 11 years, HEC approved supervisor, currently full time faculty at Center for Clinical Psychology, Punjab University and Coordinator of MS & ADCP Program. Trained Sex Therapist from the world most prestigious place i.e. Institute of Psychiatry, UK.
Specialties: Anxiety Disorders, Sexual Dysfunctions and Culture Bound Syndrome.