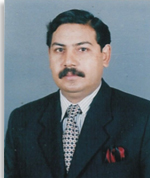 Dr. Abdul Majid is Professor in the Centre for South Asian Studies, Punjab University Lahore.
He obtained M.A Political Science, M.Phil and Ph.D degree in South Asian Studies from the Punjab University, Lahore.
He has teaching experience both at the post-graduate and graduate level at the Punjab University. He also has extensive research experience, working on research projects relating to politics and society in South Asian Studies. He also edited volumes of country profiles, Books and selections from national press and the minorities' affairs and political chronology.
His research papers have been published in various research journals and contributed chapters to edited volumes on Pakistan, South Asian Affairs, Kashmir, religious minorities and regional cooperation organizations.
He participated in national and international seminars and conferences. He also worked as the Administrative officer of Centre for South Asian Studies and Inspector of the monitoring Team for Examinations by the Punjab University.
Currently he is teaching courses at the Ph.d, M.phil and BS Honors levels and is supervising M.phil and Ph.D thesis in the Punjab University.