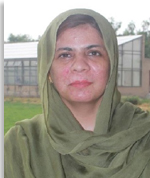 I have been part of Punjab University since 2001 when I joined Zoology department for my M.Sc. This relation continues to grow and I joined Centre of Excellence in Molecular biology (CEMB) for my M.Phil. My professional life started as research officer in (CEMB) in the same year of passing M.Phil. After serving four years I pursed my higher education in molecular Biology and get enrolled in Ph.D in 2010. I completed my Ph.D from CEMB, University of the Punjab in 2015. I have been awarded HEC indigenous scholarship. I have been serving CEMB since 2006 first as research officer then lecturer and now as assistant professor. I am engaged in teaching of M.Phil and Ph.D courses.
I have been heading and supervising Applied and Functional Genomics lab CEMB. The major areas of research are the Genomics and therapeutics. I am working on different infectious diseases like HCV and dengue. And now also started working on breast cancer. The purpose of my research is to study and understand the disease pathogenesis and find molecular therapeutic targets to cure the deadly diseases. I have published 29 publications in national and international journals. I have been awarded University of the Punjab performance evaluation Award in 2015.I am the editorial member of World Journal of Biological chemistry and also reviewer of national and international journals.
I am keen to serve the humanity by giving the best in research and academia.