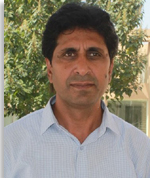 I have started my career as a "Chemist" in Pacific pharmaceutical industry, Lahore-Pakistan from 2005 when I just completed my M.Sc in Chemistry from GC, University-Lahore. After that in year 2006 I joined National Centre of Excellence in Molecular Biology (CEMB), University of the Punjab as "Research Officer" in Division of Molecular Virology and Infectious Diseases (Diagnostic lab.). Here I worked on commercial and Prime Minister Program for Hepatitis Prevention and Control in Pakistan for PCR based detection, Quantification and Genotyping of Hepatitis B and C. In 2010 I have promoted as "Research Officer cum Lecturer" and in Division of Molecular Virology and Infectious Diseases Research section, I have learned many Molecular related techniques Nested and Real Time PCR, ELISA, Gel Electrophoresis, Molecular cloning, Sequencing, SDS-PAGE , Western Blotting and Cell Culturing etc during working on different projects like Establishment of stable cell lines of structural and non structural genes of Hepatitis C Virus Genotype 3a and Genotype based co-relation of Hepatitis Delta virus with Hepatitis B virus. In year 2011, when Punjab was hit with a major outbreak of Dengue Virus, I have Worked on detection and serotyping of Dengue samples received from Different districts of Punjab from 2011 to 2014 and also published the date in National and International journals.
I have completed my PhD in Molecular biology from Punjab University-Lahore in 2019. I have research skills on Gene Expression profiling in Hepatitis C Virus infection and analysis of different genes related Liver Disease by Pathway analysis tools.
I have been awarded by International Research Support Initiative Program Fellowships (HEC) for PhD Scholars by Government of Pakistan . I was also awarded by Performance Evaluation Award (2015, 2016, 2017) and Research Incentive Award (2016, 2017) by University of the Punjab Lahore. I am a member of Molecular Medicine (Mol Med) Erasmus MC Rotterdam Netherlands , Old Ravian Union GC University Lahore.