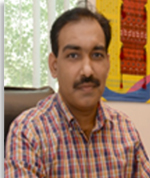 Dr. Manzoor Hussain, is presently working as Senior Research Officer cum Assistant Professor in the Forensic DNA Laboratory of Centre for Applied Molecular Biology (CAMB), University of the Punjab Lahore. Based on his inquisitiveness in the field of Forensic science, he joined the Forensic DNA Laboratory of CAMB as a "Research Officer / Forensic DNA analyst" in 2002 after completing his M. Phil degree in Molecular Biology. Later, he did his training on "Forensic DNA STR Analysis" from "Indianapolis Marion County Forensic Science Agency, Indiana, USA". Later on, in 2005, he was declared as Focal Person on Forensic DNA analysis at CAMB. His journey is continued from Forensic DNA analyst to DNA Technical Manager and then Forensic DNA Laboratory Incharge.
During this whole span, Dr. Hussain has not only provided DNA analysis services to the Law Enforcement Agencies and Honourable courts in thousands of criminal and paternity cases but also conducted series of training workshops for the police officers of various ranks and medico-legal doctors for the proper collection and preservation of evidence material. The judiciary and lawyers were also introduced about the DNA technology to promote the use of DNA technology in criminal justice system of Pakistan. He has attended several honorable courts (lower & higher) in the country to testify DNA reports issued under hand. He had also worked as "Project Director" in a development project to expand the Forensic DNA laboratory from small scale to a purpose built building.
In his lab, he is supervising M. Phil and Ph.D students involved in various forensic DNA features. His major research interests include studies related the autosomal DNA STR analysis, DNA Y-STR analysis and population Genetics. So for 20 M. Phil research scholars have completed their degrees under his supervision. He has published various articles in journals of international repute. Moreover, he has also various research grants on his credit.