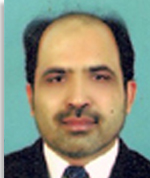 Dr. Muhammad Hassan Siddiqi is currently working as Assistant Professor and incharge Molecular Genetics lab, at Centre for Applied Molecular Biology (CAMB), University of the Punjab.
Academically, he has earned Doctoral Degree (2015) in Zoology (with area of specialization in Molecular Biology) M.Phil. (2009) in Molecular Biology from National Centre of Excellence in Molecular Biology (CEMB), and M.Sc. in Zoology (2006) from University of the Punjab.
Overall, He has over 6 years Research and Teaching Experience. He started his career in PU as part-time teacher in 2009. From 2010 to 2012 he worked as research scholar at Department of Zoology, (PU). From 2012 to 2015, he served as lecturer and taught Cell and Molecular biology and Molecular genetics to BS (Hons) and MSc students at the same department. From 2015 till date, he is working as Assistant Professor and teaching M.Phil and Ph.D students at CAMB. He is also Assistant Superintendent at Boys Hostel 7 in University of the Punjab from 2010 to till date.
Dr. Siddiqi is HEC approved Supervisor since 2016. He has genetically characterized the Kalashi and Makrani population of Pakistan. He has 8 publications and having impact factor above 12 on his credit. His research interests include uniparental genetic heritage and Molecular expression studies. Presently, he is supervising 3 M.Phil research students who are working on the characterization of genetic markers in different ethnic groups from Northern areas of Pakistan and also on molecular expression studies in diabetic cardiac patients from Punjab.
Dr. Siddiqi has been appointed as external examiner for B.Sc and M.Sc exams. He has also participated actively in many national and international conferences. He has visited Singapore and Bangkok for Annual Scientific Meetings organized by The American Society of Hematology in 2014 and 2015 respectively.