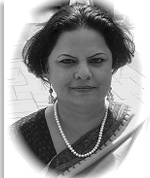 Areas of research, teaching and publications:
*Cinema Studies; Communication Studies; Women's Studies and Feminist Approaches; Human Rights; Gender Issues in Muslim Cultures; Post-colonial Studies; South Asia; Feminist Autobiography; Journalism (English daily newspapers and magazines); English Literature; Sharia Laws; Religious Fundamentalism; Interdisciplinary approaches in research.
*Over nine years of experience in teaching university level courses and supervision of research projects in Film Studies, Communication Studies, and Women's Studies at the Simon Fraser University, British Columbia, Canada.
*Academic advising for BA, MPhil, and PhD research projects and theses at SFU (Canada), and PU (Pakistan).
*Seventeen years of experience working in English newspapers, and as freelance editor for English language publications.
*Development of Cinema Studies, and Women's Studies courses.
*Development of MA-level English Journalism Studies curriculum for Pakistani universities.
*Coordinating International Film Festivals (Canada).