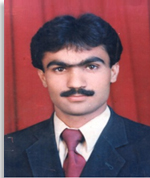 Dr. Muhammad Akram is a Researcher and Teacher at the Department of Botany of this University. He received his M.Sc. degree in Botany from BZU Multan and M.Phil and Ph.D degrees from the Department of Botany, University of the Punjab, Lahore.
His teaching assignments include Plant Tissue Culture, Plant Biochemistry and Plant Propagation. He has also taught Plant Anatomy, Plant Physiology, Horticulture and Plant Taxonomy to MSc. and M.Phil classes.
He is an experienced researcher in producing pre-basic potato seeds through tissue culture and by using the technique aeroponics. Moreover, he established protocols for in vitro propagation and acclimatization of various recalcitrant woody plants. In his PhD project, he did work on in vitro teak (sagwan) multiplication for the first time in Pakistan and honored with a cash prize by then worthy Vice Chancellor of this varsity during 2007. He worked in an HEC funded project for teak multiplication. He is an HEC approved supervisor, Life Member of Pakistan Botanical Society, and reviewer of Plant Cell Tissue and Organ Culture journal.
Akram received various travel grants for papers presentation in national and international conferences. He has been nominated for training workshops on GC-MS, DNA Microarray and Gene Expression, Plant Breeding, End Note, SPSS, Biosafety and Risk Assessment and Active Citizen Program. He is the member of anti-dengue and cleanliness departmental committees.
Akram's research interest focuses on Plant Cell and Tissue Culture of teak, emphasis on the proteomics and metabolic aspects, physiological and biochemical investigation and the acclimatization to field transfer of forest and woody plants.