Mrs. Sajida Nisar
Incharge / Assistant Professor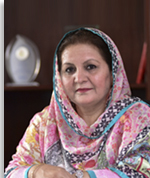 Introduction
Mrs. Sajida Nisar holds a master degree in Business Administration, majoring in Marketing from University of the Punjab. She has successfully completed her M.Phil in Management from Institute of Administrative Sciences. She has 20 years of university teaching to her credit. Her areas of interest include Marketing, Management, Entrepreneurship and Business Communication.
She has excellent educational record. She secured first position in her Intermediate Examination and won Quaid-e-Azam Gold Medal & Scholarship. She secured third position in the B.A. Examination. During her years at Kinnaird College, she was selected by Ministry of Education to represent Pakistan in Youth Festivals held in Turkey and Iran in Youth Forum 1979.
Currently, Mrs. Nisar is serving as In-charge Director of IBA. She has played an important role in the initiation of Entrepreneurship as a course at IBA. She has been keenly interested in research work pertaining to the role of SMEDA, Asian Development Bank, Grameen Bank, Kashf etc. Promotion of entrepreneurial talent amongst the students has always been her passion. In this context, she has established Entrepreneurship Cell at IBA to promote Entrepreneurial activities by the direction of Worthy Vice Chancellor, University of the Punjab, Lahore.
She has contributed extensively towards an entrenched internship and placement system at IBA. Career counseling and on-campus recruitment drives have been a regular feature under her supervision.
Establishment of Placement Cell for the first time in history in 2016 at IBA is another feather in her cap.
Mrs. Nisar is earnestly striving for the academic advancement of the institute. On her way to this noble cause, she feels a bit satisfied to launch a new academic 3.5 Years MBA Program from the year 2016. In this effort, she has targeted the students of 14 years education (B.A/B.Sc/B.Com). This professional degree is equivalent to M.Phil as per HEC roadmap for Business Education.
In the capacity of Director, she is endeavoring for the betterment of students, faculty and the administrative staff of the institute.
Designation:- Incharge / Assistant Professor