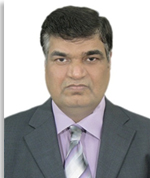 Dr. Tayyab Husnain obtained Master degree (1979) from University of Agriculture, Faisalabad. He joined Centre of Excellence in Molecular Biology, University of the Punjab, Lahore in 1984 and joined the group working on "Protoplast Culture". In 1986, he was selected by the Ministry of Science & Technology, Government of Pakistan, through a national competition, for Ph.D training with Prof. E.C. Cocking at the University of Nottingham, UK.
Dr. Tayyab Husnain came back to join the Centre of Excellence in Molecular Biology, as Assistant Professor. There are two aspect of his studies. Firstly, he has taken upon himself the challenge to transform four crop plants, chickpea, Brassica, rice and cotton. He developed the conditions for transformation of marker and reporter genes in chickpea and Brassica. Several lines of Bt cotton were later developed by him. Two varieties of Bt cotton CEMB-01 and CEMB-02 containing Cry1Ab, Cry1Ac & Cry2A gene approved by Ministry of Environment for commercial release. The institute entered in an agreement with private companies which is first ever biotechnological product entered into the market through private companies It set-up an example of Industry-Academia cooperation andjoint field trialswere undertaken in cotton growing areas. As a result of these studies, two new varietiesf Bt cotton varieties including CEMB-33 and CA12 have been approved by Punjab Seed Council.
After the initial successes, the goals have broadened and the efforts are now focused on herbicide tolerant cotton which can save farmers the cost of labour required to eradicate the weeds from the field. According to one estimate by using herbicide tolerant cotton, it we can save 2 millions bales which are lost due to mismanagement of cotton field. There are other useful and desirable traits of cotton crop which are being pursued under his supervision like drought tolerant, high photosynthetic activity, salt tolerance, coloured cotton and long fibre cotton. Similar studies are continuing to develop virus tolerant potato and sugarcane using latest technology of siRNA.
Secondly, he has addressed himself to investigate the genetic basis of hearing and vision impairment. As a consequence of these input he has identified five new linkages and twelve pathological mutations in deafness and blindness disorders. Among these new loci, GNAT1 has been shown to cause stationary blindness. This is a novel discovery recently published in Investigative Opthalmology & Visual Science. Congenital stationary night blindness is a non-progressive retinal disorder manifesting as impaired night vision.
Dr. Tayyab Husnain has been awarded certificate of accomplishment for leading highly successful project in rice and cotton transformation (CEMB) and award of excellence in research to improve agriculture productivity in Pakistan (PARC-BOSTID, US academy of science) and presidential Awards Izaz-i-Fazeelat (2005) Tamgh-i-Imtiaz (2008).
He has published over 227 research papers in journals of national/international repute with overall impact factor 386.81 and citation over 1621.
It is evident from above that Dr. Tayyab Husnain is an accomplished scientist and science manager. On the basis of his outstanding credentials, he awarded PAS Fellowship in 2016.