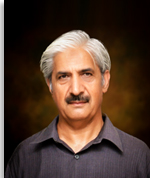 Prof. Dr. Idrees Ahmad Nasir is serving as Professor of Molecular Biology, Centre of Excellence in Molecular Biology (CEMB) and also Founding Chief Editor of an international journal "ADVANCEMENTS IN LIFE SCIENCES".
As molecular biologist he has developed genetically modified commercial crops with local resources in Pakistan. He has two approved and commercialized first ever Pakistani double-Btgenes Cotton Varieties (i.e. CEMB-33 & CA-12). Another CEMB-66 double Bt genes cotton variety has been approved by the Punjab Seed Council and now waiting for commercialization license from the NBC. To make the backbone of agriculture economy stronger and to decrease the cost on cotton production his works on glyphosate resistant varieties are now at final approval stages. His successful projects of GM crops includes: multi-transgenic sugarcane resistant against read rot, drought and glyphosate; Frost tolerant, siRNA mediated Virus (PVX), fungus and early sweetening resistant potato; and Glyphosate and insect resistant maize. He has optimized tissue culture technology to produce Fusarium resistant gladiolus first time in the country. He has broadened the role of CEMB and succeeded in collaborating with China for enhanced cotton production under China-Pakistan Economic Corridor project. During his 25 years research career he promoted academia-industry linkage through 9 different projects of total worth more the 172 million rupees.
He claimed 03 Patents, three other patents on transgenic Potato, Maize and Sugarcane are in Process, 06 Ph.Ds, 32 MPhil students, 38 genes & more than 126 research publications including books.
As founding Chief Editor of an international journal "Advancements in Life Science", Dr. Nasir transformed publishing of scientific literature in the Pakistan to meet the international standards. In brief period of just three years, the journal have secured indexing in Thomson Reuters Master Journals List and Pubmed (only 3 Pakistani journals including ALS are on Pubmed).ALS has been Recognized category 'Y' by HEC and achieved H-index of 10. ALS is pioneer of "Online Manuscript Submission and Tracking System", Online First Publication, and Publishing of Scientific Proceedings.