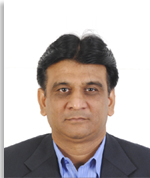 He did his M.A (English) from Islamia College, Civil Lines, Lahore in 1995. Then he joined Department of English Language and Literature in 1997 for MPhil studies. He served for seven years in the Higher Education Department of the Government of Punjab as lecturer from 1997-2005. In April 2005, he joined English Department as a lecturer. In 2013, he got promoted to the post of Assistant Professor.
He completed his M.Phil thesis under the supervision of Dr. Nasim Riaz Butt, the ex-Chairman of this department. He worked on Eugene O'Neill. Since then he has continued his critical engagement with Modern Drama.
Currently he is working on his PhD dissertation titled "Politics of Identity: A Critical Study of Pakistani Fiction in English. So Modern Drama and South Asian Fiction continue to be the key areas of his research interests. Recently in 2016, he has passed MA (Philosophy) with distinction from the Punjab University.