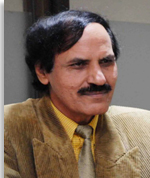 He did master in the subject of Archaeology from University of Peshawar and joined Department of History, University of the Punjab as Lecturer in 1989. Now, he is working in the Department of Archaeology as Assistant Professor, University of the Punjab and also heading the same department since October 2015. He completed my Ph.D. dissertation in 2012 from the Department of Archaeology, University of Peshawar. His main field of specialization is Gandhara Art and his Ph.D topic was "The Cultural Profile of Gandhara". He has produced eighteen research articles which he published in HEC recognized journals. His teaching assignments (M.A/M.Phil) are History of Ancient Civilizations, Mesopotamia, Egyptian, Greeks, Roman, Iranian, Chinese and Indus Valley, Ancient Art and Architecture of subcontinent. Political History of ancient Pakistan and India, Early Muslim Architecture (670-1250 AD), Muslim Architecture of Iran, Central Asia, Afghanistan and Indian subcontinent. He has presented a number of research articles in different National and International conferences.
Projects
• Archaeological Excavation of Shorkot Mound.
• Tomb architecture of the Punjab evolved under the Great Mughal.
• History of Colonial architecture of Lahore.