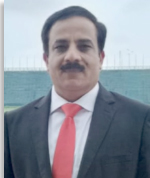 Professor Dr. Abdul Qayyum Chaudhry is serving as chairman in the department of Elementary Education, since 2018, which is the largest Department in the Institute of Education & Research. He has experience of more than twenty-five years in different positions in this largest and highest seat of learning i.e. University of the Punjab. His areas of interest are Educational Administration & Leadership, Quality of Teacher Education, Career Counseling and Placement Services and Women Empowerment through Education.
He intrinsically understands the role of the Universities in the nation building which has become very demanding in the modern global competitive era. Only the higher education institutions are the main source of creating a new spirit of success and suitability in the nation at individual as well as national levels. Keeping this requirement in view, he tries to make positive changes in the society through contributions of the educated and devoted individuals of the society, including seasoned university faculty, educational administrators and educational planners for a national cohesion and the resultant national enviable development.
So far his research publications are concerned; he has about fifty (50) Research Publications at his credit which have been published in the national & internationally reputable Research Journals, In addition to his Research Publications, he has supervised more than 500 Research theses at different levels in the University. He has also written three Books: "In Front of Bureaucracy Civil & military" "Organization Management of Technology Education" "Mayn Kaun Hoon? Mayn Kahan Hoon?"
He has got the experience of being the Director since the establishment of Career Counseling & Placement Center and to work as pioneer member of this Centre for the last 17 years and head of this Centre for the last 13 Years. He is striving pretty hard to bring in the positive change among students, staff and faculty. He has been utilizing this experience to empower the students and staff with Marketable knowledge and skills as well.For this purpose, different Training Sessions have been got conducted in various Departments to groom the students and inculcate employability skills among them. Being a chairman, he has managed to revise and revamp Courses of study and Curricula of different academic programs according to current market needs.
He has good command over public relations through which he has always performed the administrative tasks and academic work successfully, meticulously and efficiently. He is member of various intellectual fora i.e., human friendly forum, Alaf club, Halqa Yaran etc. These intellectuals are a galaxy of various top academicians, judges from higher judiciary, businessman, civil and Military bureaucracy and many other eminent personalities from different areas of work.
He is reasonably good at Golfing which is very close to life skills and teaches managerial skills like decision making, planning, coordinating, evaluating etc. This game has also provided him an opportunity to learn and interact with top civil and military leadership, CEO's of different organizations and strategic planners of different companies. This exposure of learning directly from top management of diverse organizations is very helpful for him in his service as a University Professor.
Since Elementary Education is the Largest sector of Education in the country and remained a center of importance for all the Educational policies and Plans hence the present government is also focusing in the area of Elementary Education for its development and improvement. The Department of Elementary Education is contributing in national development by Educating Professionals and Experts in this area. He hopes so that the Department of Elementary Education will prove a catalyst for positive change in the Education system of Pakistan.