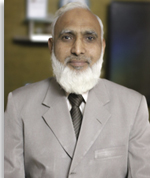 Dr. Muhammad Saeed is currently working as Professor and Chairman at the Department of Research & Evaluation, Institute of Education and Research, University of the Punjab, Lahore, Pakistan. He also holds the charge of Director, Quality Enhancement Cell of the University of Punjab. Has earned BSEd with distinction (Major: Botany, Zoology & Chemistry) from the University of the Punjab Lahore in 1983 and MEd with Major in Secondary Science Curriculum in 1989. He earned PhD on Greek fellowship from Aristotle University of Thessaloniki, Greece and Post Doc. on HEC fellowship from University of Bradford, UK in the area of teacher education in 1997 and 2007 respectively. Possesses over 30 years experience in teaching, training, research, and administration at school, college and university level.
Dr. Saeed has worked on various academic and administrative positions such as Additional Director Provincial Education Assessment Centre (PEACE) Punjab, Director at i) Directorate of Staff Development (DSD) Punjab, ii) Division of Education, University of Education, Lahore, and iii) Provincial Institute of Teacher Education, Punjab. He has been involved in policy making with the Government of Punjab in quality education initatives under Task Force on Education, introducing Continuous Assessment and Examination Reforms (2002), and preparing the draft suggestions for the National Education Policy 2009. He has worked as a member of Subject Committee (Education) at National Testing Service Pakistan, member Module Review Committee under Faculty Development Program at HEC, co-author of manual on Minimum Quality Standards for training of college administrators in Pakistan, and reviewer on books in the area of educational assessment, curriculum, and science education. Has been working an External Evaluator of HEIs by NACTE since the last seven years.
Dr. Saeed has presented papers in many national and international seminars/conferences both within country and abroad. He has visited Greece, Belgium, Turkey, USA, Canada, Netherlands, Philippines, Malaysia and Singapore for academic purposes. Has supervised 89 master, 63 MPhil & 11 PhD theses. Has been associated with many national and international institutions for paper review, external examiner and paper setter in Education and allied disciplines. He is the Chief Editor of Pakistan Journal of Educational Research & Evaluation, published from University of the Punjab. He is the member of the Editorial Board of 'Research in Education', a biannual international Journal published by Sage (formerly by the University of Manchester, UK); Open Journal of Education, published by Sciknow Group, New York, USA; and Journal of Social Sciences at Benazir Bhutto Shaheed Women University, Pehsawar, Pakistan. Has written many booklets, manuals and reports on assessment, quality education and teacher training. He has published over 50 research papers in journals of national/international repute.
Dr. Saeed is an Approved PhD Supervisor of HEC. He has earned Research Publication Incentive Award in 2010 and 2014 and Performance Evaluation Awards in 2012 and 2013 from University of the Punjab, Lahore. He was the co-author of the Best Research Paper Award 2010-11 conferred by HEC Pakistan on conducting the study 'Evaluating the Quality of BEd Programme: Students' Views on their College Experiences'. He received Best Resource Person Award (2013) by FAME Education Consultants under Improvers' Programme of Punjab Education Sector Reform Programme (GoP) and Cambridge Education.
Dr. Saeed has interest in teaching the courses on science education, curriculum and instruction, research methodology, and assessment and evaluation to BEd, MA/MEd, MPhil and PhD classes. He has professional affiliation with many HEIs such as DSD, Kinnaird College for Women, GC University Lahore and Faisalabad, Punjab Group of Colleges, Lahore College for Women University, AIOU College of Home Economics Lahore, University of Agriculture Faisalabad, Preston University Lahore Campus, Water Management Institute Lahore (GoP), Sardar Bahadur Khan Women University Quetta, University of South Asia etc. He is a Visiting Scholar at the ShareWorld Open University, Malawi contributing mainly to review research theses at post-graduate and PhD level. Has conducted 17 research and training projects funded by the Government of Pakistan, Higher Education Commission Pakistan, Government of the Punjab, UNESCO, The World Bank, DFID, Cambridge Education, UNICEF, CIDA, USAID and University of the Punjab.