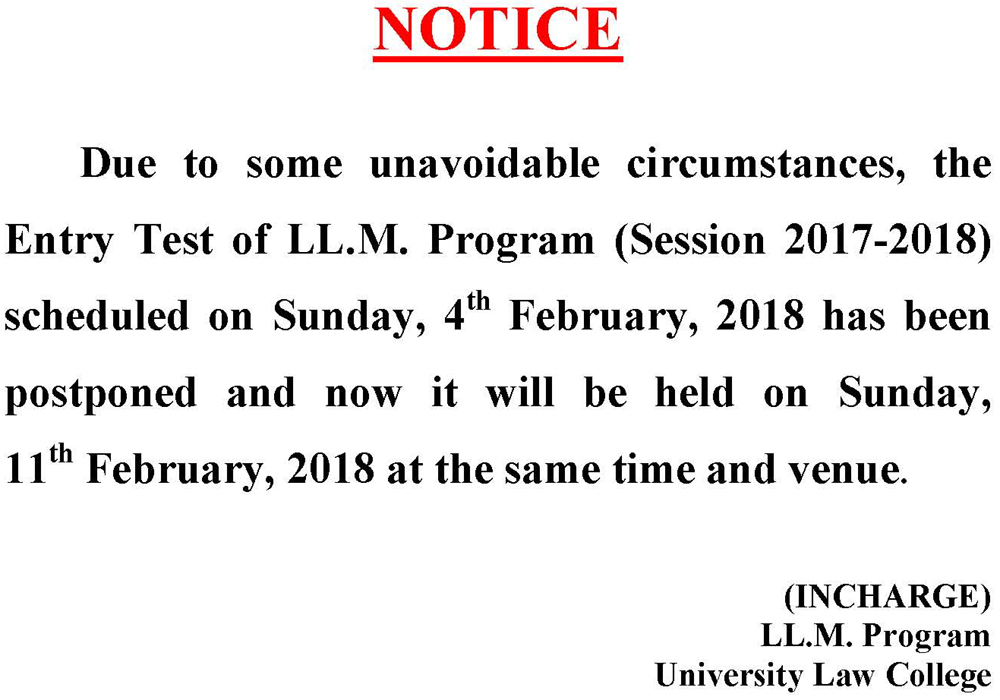 UNIVERSITY LAW COLLEGE
UNIVERSITY OF THE PUNJAB
(Quaid-e-Azam Campus) Lahore
Phone # 042-99231161, 042-99231275-76
ADMISSIONS
LL.M. PART-I
(Morning/Self Supporting Program)
SESSION 2017-2018
Applications for two years LL.M. (Morning/Self Supporting) Programs are invited from the candidates holding LL.B degree from the University of the Punjab or from any other HEC recognized University/Institute.
The Prospectus along with Application Forms will be available from the College for Rs.500/- (entry test Fee included) w.e.f. Monday, 22-01-2018. Separate applications for both Morning/Self Supporting Programs complete "in all respects" should reach the Office latest by Wednesday, 31-01-2018. The in-service candidates, who are applying for Morning Program, will have to submit an NOC and a leave for the entire period of their studies from their respective employers. They should be submitted before the commencement of classes while the in-service candidates seeking admission in LL.M. (Self Supporting Program) will submit only NOC from their respective departments. In case of failure, their admissions will be cancelled. Incomplete forms or those received after due date shall not be accepted in any circumstances.
The list of candidates eligible for entry test will be displayed on the Notice Board on Friday, 02-02-2018. The Entry Test will be held on Sunday, 04-02-2018 at 11.00 a.m. in the University Law College, University of the Punjab for which no separate call letters will be issued. The Test will comprise of objective/subjective questions within the law subjects, English comprehension & current affairs.
The list of the candidates, eligible for interview, will be displayed on the College Notice Board as well as on the College Website
www.pulc.edu.pk
later on.
It is to be noted that no reserved seat, of whatsoever nature, has been prescribed for admission to LL.M (Morning/Self Supporting) classes. Limited hostel facility will be available purely on merit for Morning Program only and there will be no hostel facility for the students of Self Supporting Program.
(PRINCIPAL)
University Law College