PU organizes launching ceremony of book "Roshni Ka Safar"
LAHORE: (Thursday, June 14, 2012): Punjab University hosted a launching ceremony of Col. (R) Muhammad Pervez's book titled "Roshni Ka Safar" here in the Al-Raazi Hall of Centre for Undergraduate Studies on Thursday. PU Vice-Chancellor Prof Dr Mujahid Kamran presided over the ceremony which was also attended by renowned religious scholar Maulana Ilyas Kashmiri, columnists Atta-ur-Rehman, Auriya Maqbool Jan, Sajjad Mir, senior faculty members, scholars and a large number of students.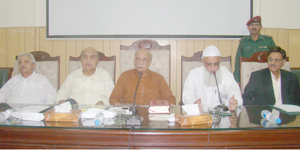 Addressing the ceremony, VC Dr Mujahid Kamran said that illiterate nations were bound to destroy and dominated by literate nations, therefore the first word of the Holy Quran "Iqra" urges the mankind to read. He said as many as 722 verses, which is 1/8 of the Holy Quran, stress for contemplation. He said the nations who ponder and think carefully before taking decisions and implementations remained successful.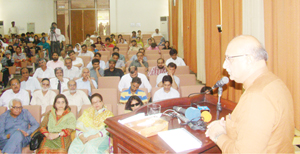 The Vice-Chancellor advised the students to follow the teachings of the Holy Quran to find Allah's consent and blessing. He said the real martyrs are those who fight against the enemies of Islam and not those who waste their lives in sectarianism. He asked the youth to think in right direction, be patient and spend their lives in accordance with teachings of Quran and Sunnah. Dr Kamran also advised the students that getting education should be their first and foremost target because progress was not possible without education. He commended the efforts of Col. (R) Muhammad Pervez and termed his book a good addition to religious books. Other speakers also appreciated the book in which tafseer of the Holy Quran has been narrated. The speakers said the book invited them to the Right Path. The author has given the complete teachings of Islam irrespective of any sect, they said adding, "the book convince us to follow the teachings of Holy Prophet (PBUH) Who is guarantee of success in this world and hereafter." In his address, Col. (R) Muhammad Pervez thanked VC Dr Mujahid Kamran on hosting such a successful ceremony and others' participants.