Bangladeshi Media Team visits PU CSAS
LAHORE: (Friday, June 15, 2012): A ten member Media Delegation Team of Bangladesh visited Punjab University Center for South Asian Studies here on Friday. The delegation led by Chief Correspondent news and current affairs Bangladesh Zahirul Alam while Director of PU CSAS Prof Dr Umbreen Javed welcomed them.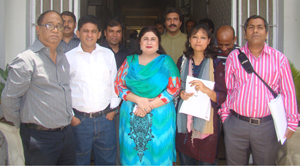 She discussed the current relations between Pakistan, Bangladesh and India with delegation. She emphasized to develop the trade and commerce between both countries. Later, the delegation also visited library of the department.