PU Gender Studies launches "Zeal"
LAHORE: (Friday, June 22, 2012): Punjab University Department of Gender Studies in collaboration with Strengthening Participatory Organization held a launching ceremony of its first news bulletin "Zeal" and inauguration of PU Gender Alliance at Undergraduate Study Centre here on Friday.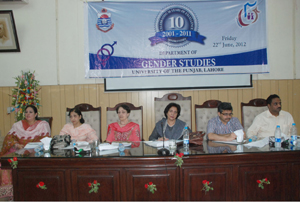 Former PU Department of Gender Studies chairperson and former Vice Chancellor of University of Education Dr Munawar Mirza, Gender Studies Chairperson Dr Samar Fatma, Director Institute of Social and Cultural Studies Dr Zikria Zakir, Mahnaz Rafi, Salman Abid, Raana Malik, Sohail Abdul Sattar, faculty members and a large number of students participated in the event. Speaking on the occasion, Prof Dr Samar Fatma said that man was superior over all other creations only because of knowledge. Thus, she said, students should focus on their studies with zeal and zest. The speakers were of the view that the education of gender studies was a big achievement and had given new thinking to Pakistani women to play their role in national development. They said that the country could not progress without the participation of the women. They said that "Zeal" would be a source of connection between Punjab University and civil society.