PUCIT holds project exhibition
LAHORE: (Saturday, June 23, 2012): Punjab University College of Information Technology organized concluding ceremony of projects exhibition in which students showed outstanding performance by presenting astonishing IT projects. Vice Chancellor Prof Dr Mujahid Kamran, PUCIT Principal Prof Dr Mansoor Sarwar, faculty members and a large number of students were present on the occasion. As many as 20 teams participated in the exhibition. In development category, BSFO8-Agile-1's SpyEye Parental Control Application secured 1st position, BSEFO8-14's Agile Project Management Tool 2nd and Fruit Fighter Game (Android phone) stood 3rd while in research category, BSEFO8-21's Scanner in Your Hand, BSEFO8-22's Looking Behind Slits and BSEFO8-04's Web Crawler projects clinched 1st, 2nd and 3rd positions respectively.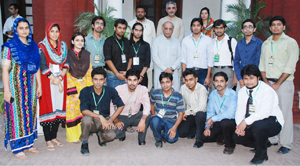 The winning teams were also rewarded with the cash prizes of Rs 10,000, 7500 and 5000 each respectively. Speaking on the occasion, PU VC Dr Mujahid Kamran said that because of the efforts of Dr Sarwar, the college had become the largest source of producing IT graduates in public sector in Pakistan. He said that the college was the best IT College in the country and it could be hoped that under the leadership of Dr Sarwar, the college would become best IT College of the sub-continent. He congratulated college administration and faculty members for successfully organizing project exhibition and said that such events were a platform for IT students to excel and polish their talent. Later, cash prizes and certificates were distributed among the winning teams.