PU students to participate in dengue awareness campaign: VC
LAHORE: (Thursday, August 16, 2012): Punjab University Vice Chancellor Prof Dr Mujahid Kamran has stated that the PU students will work as volunteer in Punjab government's ongoing dengue awareness drive. He was addressing a high-profile meeting of Punjab University's Dengue Research Group (DRG), formed last year for scientific information about psychological effects, diagnose, preventive, curative measures etc regarding the disease at Al-Raazi Hall of Undergraduate Study Centre here on Thursday. Chief Social Mobilizer Mrs Shaista Pervaiz Malik, Head of Research & Development on Dengue Program Dr Waseem Akram, Acting Registrar Prof Dr Aurangzeb Alamgir, Chairperson Doctoral Programme Coordination Committee Prof Dr Shahida Husnain, Chairman Zoology Department Prof Dr Muhammad Akhtar, Chairman Dengue Research Group Prof Dr Saeed Akhtar, Director Centre for Applied Psychology Prof Dr Rkhsana Kausar, Director CEMB Prof Dr Tayyab Husain, Director School of Biological Sciences Dr Javed Iqbal, Chief Medical Officer Dr Nauman Ahmed, Prof Dr Muhammad Idrees, Dr Khalid Saeed from UVAS, Dr Muhammad Aslam from UHS, CEO NUR Foundation and Member Board of Management Fatma Memorial Hospital Dr Haroon Ihsan, Advisor Students Affairs Prof Dr Muhammad Rafique and a large number of researchers were present on the occasion.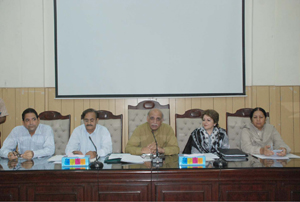 The VC said that PU's DRG was working on various aspects of dengue fever and its findings would help the government curb the disease and save mankind. Chairman Dengue Research Group Prof Dr Saeed Akhtar gave a detailed presentation on Surveillance and Summary of Dengue Situation in Lahore. He also presented data analysis of various towns of Lahore and said that desert coolers were the largest container of larvaes and 66 percent of larvaes were detected from the desert coolers. He said that from Nov 2011 to August 2012, no larvae had been found in some ponds being watched for research purpose outside Zoology Department. Dr Muhammad Idrees said that Centre of Excellence in Molecular Biology had tested 4000 samples and free of cost diagnosis for DENV and its Sero-typing had been provided in all the cases in Punjab and samples from Sindh and Khyber Pakhtunkhwa had also been tested. He said that the outbreak of dengue fever was not expected in KPK the current year as according to the test of samples sent by KPK government, the ratio of infested larvaes was 1.2 percent while for outbreak, the ratio required to be more than 20 percent. He said that 15 suspected cases were received the current year out of which 5 cases, four from Lahore and one from Rahim Yar Khan, were found positive and three were containing DHF-3 and two DF-2. He said that the scale of the dengue outbreak could be measured if samples of larvaes were provided to the research team. He said that the group had cloned and sequenced five genes of Serotype 2, performed Phylogenetic analysis, studied partial sequences from DF and DHF patient and predicted the chances of DENV outbreak for KPK government by detecting virus in mosquitoes. Dr Aslam said that 27 percent of dengue patients were found female while the rest were male. He said Aedes Aegypti used to bite humans outdoors in the daylight and the peak hour of biting was around Asar prayer. He added that the mosquito did not stay indoors. Prof Dr Rukhsana Kausar said that under her supervision, CAP had done research on "Level Of Information And Precaustionar Practices Among Dengue Survivors And Non-Affected Individuals: A Case Control Study", "Acute Stress, Disorder, Symptoms Severity And Satisfaction With Treatment In Dengue Fever Patients In Relation To Empathy And Altruism In Paramedic Staff", "Psychological Impact Of Dissemination Of Dengue Related Information Through Media On Patients And General Population", "Symptom Severity, Self-Efficacy And Psycho-Education For Dengue Fever Patients: A Case Control Study", "Level Of Awareness And Precautionary Practices Regarding Dengue Fever Among Nomads" And "Psychological Distress And Quality Of Life Of Survivors Of Dengue Fever". She said that the results of the researches were eye-opener and very meaningful which could help in various areas. Dr Waseem Akram said that monsoon season had started late the current year so the time of the outbreak of dengue fever would be different. He said that we must maintain strict vigilance of breading places of the mosquito to avoid dengue outbreak at a large scale. A researcher said that there were positive results of research on Bio-control of dengue fever. Another researcher indicated that people must be made aware of implications of self-medication. Dr Haroon Ihsan also apprised the meeting of research being conducted by Fatma Memorial Hospital and pointed out various facts helpful for dengue control.

Concluding the meeting, Chief Social Mobilizer Mrs Shaista Pervaiz Malik said that we could solve any issues when we sit together. She said that only technical solution could not resolve the problem and we should move the society to curb dengue fever. She said that lack of education, religious beliefs etc were also a big challenge to control the disease. She said that some elements were uselessly politicizing Punjab government's true efforts by hurling purposeless questions on Punjab government's unprecedented efforts to curb dengue fever. She said that we were registering volunteers and would utilize their abilities in their respective areas to create awareness regarding dengue fever among people. She lauded Punjab University Vice Chancellor Prof Dr Mujahid Kamran's efforts in saving lives of people and supporting research activities in this area.