LAHORE: (Tuesday, September 4, 2012): Punjab University Department of Microbiology & Molecular Genetics (MMG) organized one-day open seminar on "Recent trends in diagnosis of tuberculosis" in the lecture hall of the Department on Tuesday.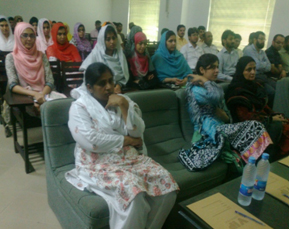 Dr. AtiqaAmbreen Assistant Professor (TB Expert from Gulab Devi Chest Hospital Lahore) delivered a comprehensive lecture on Diagnosis of MDR TB. She described the new techniques in diagnose of MDR TB.
Ms. ZuniraRao (Microbiologist from National TB control programme) also spoke on the occasion. She enlightened the Routine traditional and recent advance techniques for diagnosis of TB and its different type. At the end, Department Chairperson DrAnjumNasimSabri presented shields to the speakers.