College of Earth and Environmental Sciences, University of the Punjab, Lahore organized one day Seminar on "HCFCs Phase Out in Pakistan" in collaboration with Ministry of Climate Change on January 27, 2017 at 10:00a.m. in the Seminar Hall of the CEES.
A number of distinguished guest from Ministry of Climate Change including Mr. Iftikhar ul Hassan Shah Gilani (Joint Secretary) and Dr. Zaigham Abbas and Mr. Luqman Malik from Punjab Higher Education Commission (PHEC) participated in the event.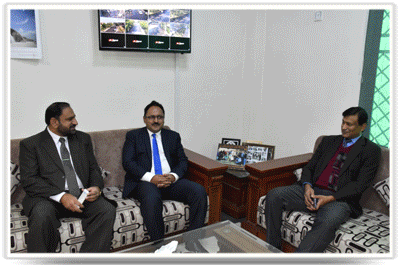 Prof. Dr. Sajid Rashid Ahmad (Principal, CEES) welcomed the distinguished guests. Prof. Dr. Sajid Rashid Ahmad and Dr. Faiza Mazhar gave a presentation on the Seminar topic "HCFCs Phase out in Pakistan". Mr. Iftikhar ul Hassan Shah give concluding remarks on role played by the Ministry of Climate Change, Pakistan in this scenario.
A large number of students, researchers and faculty members of the University participated in the seminar.