Faculty Orientation Program 2017
Faculty Orientation Program 2017
Human Resource Development Center (HRDC) at Institute of Administrative Sciences (IAS) organized a four day Faculty Orientation Program from 8th -11th May 2017 for 35 newly inducted faculty members from three campuses of University of the Punjab including Gujranwala, Jhelum and Quaid-e-Azam campus. The program started with recitation of the Holy Quran followed by Welcome speech by Prof. Dr. Nasira Jabeen - Dean Faculty of Economics & Management Sciences (FEMS) and Director Institute of Administrative Sciences (IAS). Dr. Nasira Jabeen shared in her speech that the Faculty Orientation Program is an annual feature of HRDC, IAS since year 2001. She shared the contents of the program where a wide variety of professionals were engaged for various sessions including curriculum design & development, academic writing, effective teaching techniques and use of digital tools, classroom management with special focus on diversity and inclusiveness, micro teaching sessions and Learning Management system (LMS), Research Publications, Assessment & Performance Evaluation of University teachers, Stress and Time Management and Self Awareness and Personality Development. Prof. Dr. Taqi Zahid Butt – Dean Faculty of Engineering & Technology and Acting Vice Chancellor graced the occasion with his presence. Dr. Khalid Khan – Registrar PU along with IAS Faculty & Administration Staff were present at the opening ceremony. The detailed introduction of participants was taken and vote of thanks was exchanged.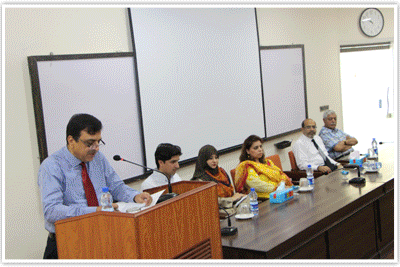 The four days of faculty orientation program were full of learning experiences for the participants where renowned academicians and industry professionals facilitated them at activity based sessions. The Program culminated on fourth day at a closing ceremony where the worthy Vice Chancellor, Prof. Dr. Zaffar Mueen Nasar graced the occasion as Chief Guest. Prof. Dr. Zaffar Mueen Nasar was welcomed with glimpses of the program through a slideshow that provided a snapshot of all the key features of the program.
Prof. Dr. Nasira Jabeen, Dean Faculty of Economics & Management Sciences and Director Institute of Administrative Sciences (IAS) provided a review note where she addressed the learning community of faculty members encouraging them to serve the nation with great courage, dignity, self-respect and grace. Faculty members of today have to develop sensitivity to the changing landscape of our society. Dr. Jabeen emphasized on values of tolerance, peace building and professionalism while addressing the participants. She explained that the Faculty Orientation Program is a broad based program with specific aims to highlight smoother orientation of faculty at their working place, provision of a wonderful platform for dialogue, discussion and conversation while strengthening the learning community and fostering collaboration. She ended her note on a very important aspect of bringing change i.e. to small differences in one's own capacity. Three of the training participants provided the insider's perspective by sharing feedback regarding the training program and how this had equipped them to be better human beings and effective teachers.
Prof. Dr. Zaffar Mueen Nasar was then invited to share his views. He delivered a very thought provoking speech where his focus remained on optimism, nationalism and community service by teachers. He deeply appreciated the efforts of Dr. Nasira Jabeen and her team for the initiative of Faculty Orientation Program. He mentioned that all faculties should design and conduct such programs for their faculty members' development. He highlighted the areas that maybe added in the Faculty Orientation Program to make it more comprehensive. These included (i) Advising & Tutoring students (ii) Community Service (iii) Nationalism and Patriotism (iv) Prevention from narcotics and drugs (v) Saying no to Extremism, and (vi) Promoting harmony and tolerance. Dr. Zaffar's enlightening speech encouraged and motivated the participants to perform better in their teaching profession. He advised them to invest in development of their personality, inter-personal communication and enhancement of their self-esteem that can result in better performance. Worthy Vice Chancellor shared in his talk about the soon-to-be-launched portals for teachers and students to have an integrated Learning Management System (LMS) at University of the Punjab.
Lastly, certificates were distributed among the participants by Prof. Dr. Zaffar Mueen Nasar, Dr. Nasira Jabeen and Dr. Tehseen Zameer – Chief Medical Officer, PU. Special acknowledgement was given to the organizing team including Ms. Umme Farwah Muabsher – lecturer, Mr. Zeeshan Hanif – lecturer, Col. Muzaffar Ali – Manager Administration, Mr. Shahzad Ahmad Siddiqui – Administration Officer, Ms. Riffat Umbreen Afzal – Assistant Registrar Administration, Ms. Saima Manzoor – PS to Director, Mr. Zaheer Hameed – IT staff member and Mr. Muhammad Usman – IT staff member and photographer.
With great respect, Dr. Nasira Jabeen presented bouquet of flowers to Dr. Zaffar Mueen Nasar for allocating his healthy amount of time for the program that really shows his deep interest and strategic vision of investing in today's faculty for a brighter future of the university tomorrow. It was followed by a memorable group photo and refreshments.