LAHORE: (Wednesday, May 24, 2017): Punjab Governor and Chancellor Punjab University Muhammad Rafiq Rajwana has said that the government is performing its Constitutional responsibility of providing social justice to people and there is need to promote positive thinking in society for country's development.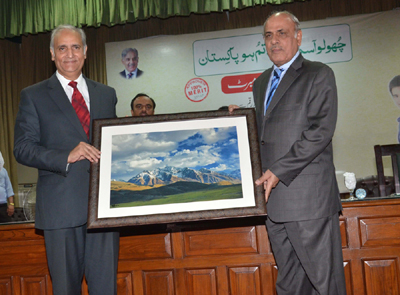 He was addressing the inaugural ceremony of 4th phase of Chief Minister's Laptop Scheme at Faisal Auditorium here on Wednesday. Punjab University Vice Chancellor Prof Dr Zaffar Mueen Nasir, Secretary Higher Education Department Nasim Nawaz, senior faculty members and a large number of students from various institutions of higher learning were present on the occasion.

Addressing the ceremony, the Punjab Governor said that failure in the field of education failed the nations and the journey on the road to development halted. "There are hundreds of success stories of great personalities before you who were nothing before they started their struggle to achieve their goals. So, don't let your dreams die and fight the circumstances," Mr Rajwana said, adding that we were making a nation and the government was providing people with their due rights. He said that we did not want to take credit of our initiatives but the young generation must compare the performance of the governments and judge who was serving the people. He said that a few elements were spreading disappointment among the youth. He said that young students were getting laptops and scholarships totally on merit basis and they really deserved guard of honor. He said that Pakistan had given us a lot and we must think that what we had returned to Pakistan. He said that so far, around 310,000 students had received laptops under the Chief Minister's laptop scheme and after completion of the fourth phase, more than four hundred thousand students would have received the laptops purely on merit basis. Addressing the ceremony, Dr Zaffar Mueen Nasir said that the Punjab government was helping poor students through PEEF scholarships. He said that in co-curricular competitions organized recently at Punjab University, the students from Danish Schools had obtained maximum positions which reflected that the government's investment in Danish Schools had proved fruitful. He said that the Punjab governor had supported PU administration in every problems faced by the university. On the occasion, Punjab Governor Mr Muhammad Rafique Rajwana presented laptops among distinguished students of various universities. Earlier, Punjab Police presented guard of honor to laptop recipients in Faisal Auditorium.