LAHORE: (Tuesday, October 17, 2017): Punjab University has signed a memorandum of understanding to provide newly-invented disease resistant cotton seed to the farmers through 7 multi-national companies nationwide in order to bring revolution in the cotton industry. In this regard, an MoU signing ceremony was held at committee room of Vice Chancellor's office. PU Vice Chancellor Prof Dr Zafar Moeen Nasir, Centre of Excellence in Molecular Biology Prof Dr Tayyab Husnain, Dr Idrees Ahmad Nasir and representatives of seven multinational companies i.e. Aurigo Group, Multan, Bahar Seed Corporation (Regd.), Sadiqabad, ICI Pakistan Ltd, Lahore, Neelum Seeds, Jahanian, SunCrop Group, Multan and Weal AG Corporation, Multan were present on the occasion.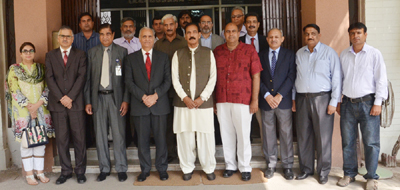 Addressing the ceremony, PU Vice Chancellor Prof Dr Zafar Moeen Nasir said that the BT cotton seed invented by PU scientists would contribute as many as 4 billion dollars to the country's economy and it would start giving results in just 2 years. He said that poor farmers would also be able to save Rs 20,000 per acre and since the cotton seed would be used over 8 million acres of land in the country, it would save Rs 144 billion of the farmers collectively. He said that the cotton seed would also be reusable. Giving technical details, the vice chancellor said that the BT cotton seed was disease resistant, insect resistant and drought tolerant. He stated that the BT cotton seed was weedicide resistant too and it was country's first genetically-modified cotton seed. He said that the seed had been developed using modern molecular genetic engineering and DNA cloning techniques. He said that seven international companies showed interest in purchase of these varieties of the seed and now the time had come to provide benefits of academic research to the country as well as people.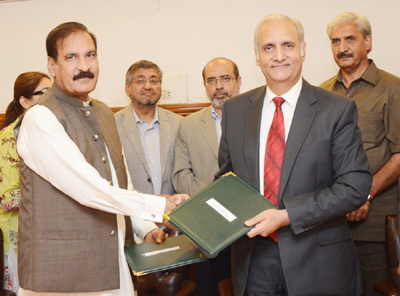 He said that PU scientists including Dr Tayyab Husnain, Dr Idrees Nasir, Dr Ahmed Ali Shahid, Dr Kausar Malik, Dr Bushra Rashid and Dr Abdul Qayyum had made significant contributions in development of these BT cotton seed varieties. He said that genetically modified BT cotton seed varieties would now be commercialized through these seed marketing companies for use in Pakistani agriculture sector. He said that the agreements would generate additional revenue for university to be allocated for such research projects etc. He said that PU was playing its role for country's socio-economic development. The representatives of seed marketing companies congratulated PU scientists and said that their invention would play a pivotal role in strengthening country's economy, developing cotton sector and improving farmers' socio-economic conditions.