LAHORE: In connection with the 200th Birth Anniversary of great scholar and philosopher of subcontinent Sir Syed Ahmad Khan, PU ICS in collaboration with Liberal Human Forum organized a seminar at Hameed Nizami Memorial Conference Hall of the ICS on Tuesday.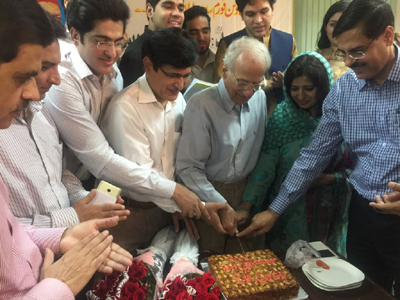 Renowned professor of Journalism Dr. Mehdi Hassan was the keynote speaker while History professor Dr. Mahboob Hussain, Columnist Afzaal Rehan, ICS in-charge director Dr. Noshina Saleem, Shabbir Sarwar and a large number of students were present on the occasion.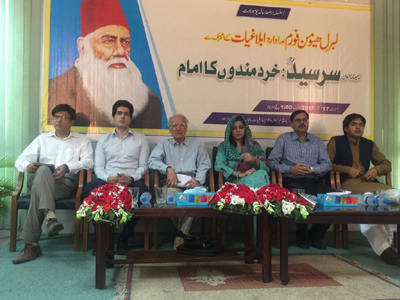 Speaking on the occasion, Dr. Mehdi Hassan said it was a great contribution of Sir Syed that he tried to drive the Muslim society at a par to the modern requirement of that time by equipping them with English education system which very important to get jobs. He said Ali Garh Movement provided basis for the Pakistan Movement. "Sir Syed knew very well that if Muslims participated in practical politics without getting proper education and adapting to the contemporary world at that time, Hindus would dominate the subcontinent. He said Muslims of the Subcontinent progressed following the model given by sir Syed. "Sir worked for the Muslims while Raja Ram Mohan Roy for Hindus on the same patterns focusing the reformation through education.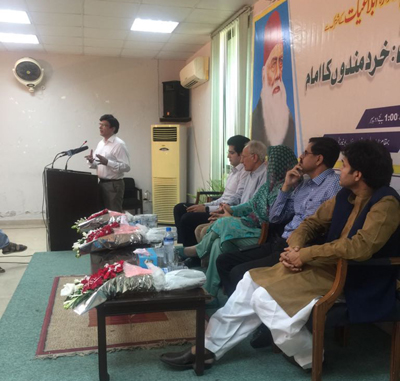 President Liberal Human Forum Afzaal Rehan said Sir Syed's contribution was multi-pronged and everyone accept his education services for the Muslims which helped them realize their rights. The able students of Sir Syed not only established All India Muslim League but gave a proper strategy to the Muslims of Subcontinent and Jinnah declared Ali Garh his fighting depot. "Once the Son of Dr Allama Muhammad Iqbal, Dr Javed Iqbal said that if Sir Syed was not there, the Muslims perhaps still used to live in tribes."
Dr. Mahbood Hussain, said that Sir Syed's reforms package for Muslims was based on three key components including education, relationship with rulers and promotion of scientific approach.
Dr. Noshina Saleem said today still we need Sir Syed to resolve our contemporary issues. "Sir used the simile of two eyes of a bride for the Muslims and Hindus the Subcontinent. Sir had laid the foundations of independence in 1857," she remarked.
Shabbir Sarwar said the land of Subcontinent is historically full of emotionalism, however, Sir Syed cultivated the seed of rationalism and scientific thinking in the society. "The though provoking ideas of Sir Syed urge us to refrain from hollow emotionalism and make decisions and planning on the basis on ground realities.