LAHORE: (Friday, November 3, 2017): Punjab University Vice Chancellor Prof Dr Zafar Moeen Nasir on Friday inaugurated Pakistan's first-ever Psychological Trauma Centre at Centre for Clinical Psychology, the first initiative taken by any university for mental treatment of the patients facing psychological problems. On this occasion, Dean Faculty of Life Sciences Prof Dr Naeem Khan, Director Centre for Clinical Psychology Prof Dr Rukhsana Kausar, senior faculty members and a large number of students were present on the occasion.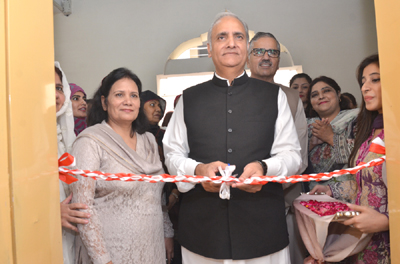 Addressing the ceremony, Dr Zafar Moeen Nasir said an important purpose of man's creation was to serve mankind. He said that the name of late Abdul Sattar Edhi would live forever because of his service to humanity. He said that Allah had given top priority to human rights and we must share grief of others. He advised the students of psychology to take lead in this service. He said that PU would be No 1 university soon in community service and PU administration would support all such projects.

In her address, Dr Rukhsana Kausar said that Psychological Trauma Centre was a milestone in the history of Pakistan. She said that the centre had been set up with an aim to provide mental treatment to the people suffering from psychological disorders due to domestic issues, calamities, incidents of violence, terrorism, rape victims, fatal accidents etc. She said that we need to cope with the reasons causing mental illness. She said that Pakistan direly lacked such facilities and it was need of the hour to address mental health issues of the people for a healthy society. She said that trauma management course had been introduced in the curriculum to provide human resource in this sector. She said that we must deal people facing mental trauma at initial stages so that any mental or physical loss could be avoided. She said that she had a plan to introduce round the clock helpline service for the people who wanted to seek psychological counseling. She said that there was need to establish psychological trauma centres like Rescue 1122. Later, PU VC Dr Zafar Moeen Nasir visited various sections of the centre.