LAHORE: (Wednesday, October 3, 2018): Punjab University Vice Chancellor Prof Niaz Ahmad Akhter has said that the incumbent administration has set PU's direction and vision towards and it would contribute to policy making in all fields for socio-economic development of the country. He was addressing the ground breaking ceremony of new building of Department of Economics near College of Earth and Environmental Sciences here on Wednesday. Department of Economics Chairman Prof Dr Mumtaz Anwar, Dean Faculty of Economics and Management Sciences Prof Dr Nasira Jabeen, heads of various departments, senior university officials and students were present on the occasion.
Addressing the ceremony, Prof Niaz Ahmad said that we must impart practical knowledge and training to our students so that they could play positive role in their relevant fields. He said that PU would upgrade Department of Economics to School of Economics having several sub-departments for making policies for the federal and provincial government in different sections. He said that economy was one of very basic issues of Pakistan. He said that it would also help government for preparing budget and devising various economic policies. He said that PU would also establish Social Sciences Research Centre for the same purpose.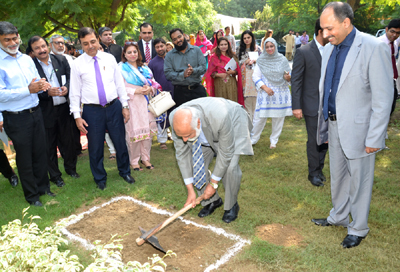 In his address, Prof Dr Mumtaz Anwar said that the department was set up in 1919 and it had been 99 years of its establishment. He said that the department would play its role for country's economic uplift and make investment policies for the university too. He said that as per the new mission and vision, balance would be maintained among research, teaching and service to the community. He said that we wanted our graduates and research to be able to achieve targets for the development of country. He said that the department would aspire to be home to the pluralistic approach in economics. He said that the department would emphasis on positive economics within Punjab and sub-sections of the province, as well as public policy. He said that the department shall serve public institutions and educate a student body representing Punjab's population demographics, fulfilling the future needs of the province. He said that undergraduate education would focus on creating the future workforce, while the graduate education shall create future thought leaders. Later, the VC performed earth breaking ceremony of the new building.