Seminar on Breast Cancer Awareness by Shaukat Khanum Memorial Cancer Hospital & Research Center
Press Release
Seminar on Breast Cancer Awareness by Shaukat Khanum Memorial Cancer Hospital & Research Center
Seminar on Breast Cancer Awareness by Shaukat Khanum Memorial Cancer Hospital & Research Center
A Seminar on 'Breast Cancer Awareness" was conducted at Institute of Administrative Sciences (IAS) – University of the Punjab, Lahore on 10th October 2018 by Shaukat Khanum Memorial Cancer Hospital & Research Center (SKMCH&RC). Team from SKMCH&RC including Dr. Namra Nadeem, Ms. Sophia Anjum- Brand Ambassador of Shaukat Khanum Hospital for Breast Cancer Awareness and Mr. Masrur-ul-Haq Lodhi – Marketing & Fund Raising Director at SKMCH&RC were welcomed by Prof. Dr. Nasira Jabeen – Dean FEMS & Director IAS, Col. Muzaffar Ali – Manager Administration and Ms. Sameen Zaki – Manager Career Advisory & External Linkages alongwith other faculty and staff members. After a formal welcome to the team at the institute, Dr. Namra Nadeem was invited to speak to the audience on the day's agenda. Dr. Namra Nadeem delivered a talk on the importance of being aware of breast cancer and its early diagnosis. It is a research proven fact that early detection of the disease leads to very high chances of recovery and survival rates in patients alongwith quality of life. Pakistan has a very high rate of breast cancer among all Asian countries where approximately 90,000 cases are diagnosed every year out of which 40,000 die due to late diagnosis. Dr. Namra explained the stages of cancer, the risk factors; modifiable and non-modifiable and the lifestyle changes that can help us get away from developing this disease. It is imperative to note that not only balanced diet but the diet rich in antioxidants can help to fight this epidemic. During her talk, Dr. Namra discussed the early signs and symptoms of the disease and urg ed all women to have regular self-examination once every month. Whereas, screening tests are recommended once every year for women age 40 and above. She stressed on the fact that; ' Early detection leads to best Protection'.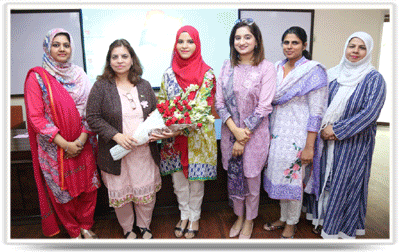 Ms. Sophia Anjum – Brand Ambassador for the Breast Cancer Awareness Campaign at SKMCH&RC had a very lively talk endorsing the significance of 'being aware' of the disease. She advised the audience to spread this knowledge among the less privileged women who do not have access to the information. Not only this, she also spoke about the need to establish the open channels of communication in our society and within families about not to feel ashamed while discussing about one's health. A healthy lifestyle with an adequate exercise plan throughout the week is highly recommended. Students took keen interest in asking the questions to the team about various myths prevailing in the society and the preventive measures that can be taken to lessen the risk. Their queries were adequately addressed. Ms. Sophia's message to the audience was; ' There is a 'can' in cancer, so we can fight it together'.
A closing note of thanks was presented by Prof. Dr. Nasir Jabeen – Director IAS, where she appreciated the efforts of SKMCH&RC that has been creating awareness about breast cancer very actively. She applauded the highly informative talks of the speakers and presented more support from IAS to join hands with SKMCH&RC for the humanitarian causes. Prof. Jabeen shared that the institute, under its initiative of Community Social Responsiveness (CSR) , has always been playing a significant role in society by collaborating with the community organizations including the Blood Donation Drives, Thalassemia Awareness campaigns and Breast Cancer awareness campaigns. As a step forward, SKMCH&RC and IAS will be facilitating the mammogram screening test within the university campus in the upcoming days for female faculty and staff members.