LAHORE: (Thursday, February 14, 2019):
Punjab University Library Book Club has organized a talk on "Ajay Qayamat Nai Aye" written by Munnu Bhai and Farid-ud-Din Attar's "The Conference of the Birds" translated by Afkham Darbandi to nurture reading culture among students.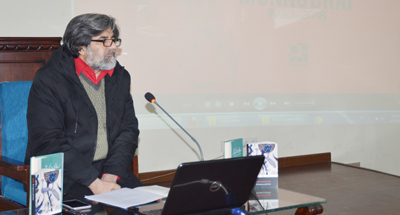 The introductory talk on the Punjabi poetry book of Munnu Bhai was presented by Dr. Ahmed Bilal, Assistant Professor, PU College of Art and Design. He presented in an artistic way the theme of the book carrying the humane message of Munnu bhai. He inspired the audience with the depth of the intellectual and compassionate thought of the writer. The talk on the second book was presented by Mr. Shahzeb Khan, Assistant Professor, Department of English Language and literature. He inspired the audience with his striking style of presentation to read the book that have a wonderful spiritual and self-actualization theme. Chief Librarian Dr. Muhammad Haroon Usmani said on the occasion that one purpose of these efforts of the library on promotion of reading culture is also to kindle the self-realization process among younger generation.