LAHORE: (Thursday, October 13, 2022): Punjab University Centre for South Asian Studies in collaboration with Ambedkar Society for South Asia organized an international conference on 'Unfinished Legacy of Dr Ambedkar & Plight of Oppressed in South Asia' at Al Raazi Hall on Thursday. On this occasion former Foreign Secretary Mr Shamshad Ahmad Khan, foreign affairs expert from Pakistan Syed Muhammad Mehdi, Director CSAS Prof Dr Umbreen Javaid, Director Ambedkar Society for South Asia Syed Shaheen Hassan while Dr Seema Mathur, Dr Sujatha Surepally, Dr Pradeep Aglave, Bezwada Wilson from India, faculty members, students and members from civil society were present.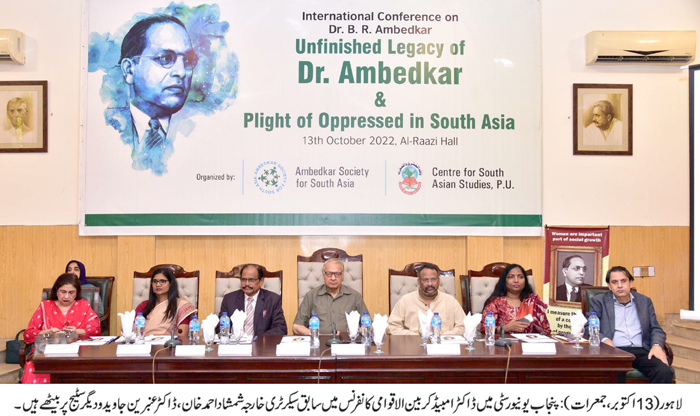 In his address, Shahzad Ahmed Bhatti said that the life of Hazrat Muhammad SAWW is a torch for In his address, Mr Shamshad highlighted multiple significant issues including ethnic and caste discrimination, human rights, democracy and fascist trends in south Asia. He traced the contribution of different theologies, cultures and states behind the development of United Nations Human Rights Charter. He highlighted the discrimination based on caste, culture and ethnicity in South Asia and appreciated the role of Ambedkar society for South Asia to eliminate this discrimination from society.Syed Muhammad Mehdi said that Dr Vidyasagar Anand had said that Dr Ambedkar and the founder of Pakistan, Quaid-e-Azam Muhammad Ali Jinnah, were good friends. He said that if these two were alive today, the circumstances of India and Pakistan would be different. He said that Baba Sahib, like Quaid-e-Azam, had peaceful and realistic views, according to which there was no reason why Pakistan and India should not live in peace with each other. But contrary to the views of these two leaders, today the poison of religious hatred has been diluted in India-Pakistan relations, he added. The speaker said that Ambedkar has called India a bastion of injustice. He said that the biggest problem of today's Pakistan and India is extremism, which Ambedkar was fighting against.
In his address, Syed Shaheen warmly greeted all the guest speakers from India and the participants. He also appreciated Dr Umbreen Javaid for her efforts and continuous and encouraging support to organize an international conference on such an important topic. In her address, Dr Umbreen formally welcomed and thanked all the guests from India who had come to attend the international conference to share their views. She said that CSAS has been holding this international conference every year and it has become a regular feature. She briefly also shed light on the life of Dr Ambedkar.