LAHORE: (Thursday, January 4, 2018): Punjab Food Authority (PFA) Director General Noorul Amin Mengal delivered a special lecture on "Media Role in Food safety & Health Awareness" at Institute of Communication Studies (ICS) Punjab University (PU) here on Thursday. The objective of the lecture was to spread awareness among future journalists regarding significance of healthy food and to alarm about unhygienic food items.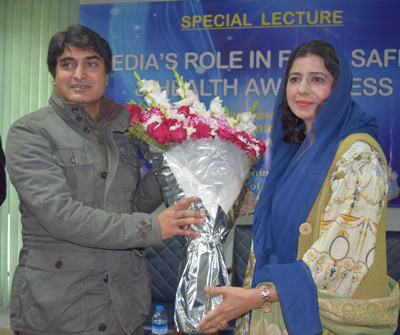 ICS In-charge Director Dr. Nosheena Saleem, Dr. Lubna Zaheer, Dr. Rashid Khan, Shabbir Sarwar, other teachers and a large number of students were present there.
Noor ul Amin Mengal said there were more than 700 teams and 2000 Food Safety Officers who quickly response and work in field to ensure healthy food availability to the citizens. He also said they were soon going to launch the PFA Nutrition Center and PFA Radio.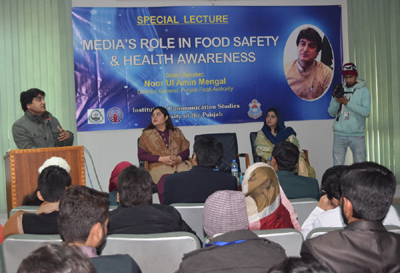 While talking about the restaurants, he said "we have a proper team of Food Safety Officers, who first investigate and then warn two or three times before issuing fine challans and seal off restaurants and factories with involved in preparation of unhealthy food items. He added the U.S govt had an issue with PFA campaign of Cola Free Campus.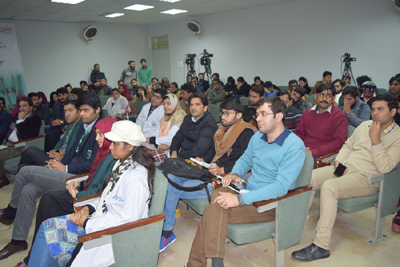 To a question He also said that the implementation of the law is only 10% force while they were ensuring 90% implementation through awareness campaigns. He said the role of media in food and health is appreciated.
Dr. Noshina Saleem said the gap between media and the institutions should be bridged through interactions. She said media actively worked with the PFA and highlighted the significance of this authority due to active working of former DG Ayesha Mumtaz and now Mr. Noorul Amin Mengal. She said Lahore' food is very famous in world and we must protect this identity and food culture of the city and PFA can play a role in this regard.
In her welcome address Dr. Lubna Zaheer praised the Punjab Food Authority and the services of Noor ul Amin Mengal for the authority and the citizens.
Students actively participated in the question-answer session.