PU CEES celebrates world ozone day
News Updates
PU CEES celebrates world ozone day
PU CEES celebrates world ozone day
LAHORE: (Wednesday, September 19, 2018): Punjab University College of Earth and Environmental Sciences (CEES) organized a collaborated seminar (Industry and Academics) Environmental awareness seminar along with Tree plantation campaign under the vision of Prime Minister Billions Tree plantation agenda. In this event Mr. Masood Ali Khan, Water and Environment Forum, Advisor to CM Choudhary Muhammad Akram, senior analyst Mr. Salman Abid, Mr. Saleem Baryar from Sialkot Chamber of Commerce and Industry, Principal CEES Prof. Dr. Sajid Rashid Ahmad, President FAPUASA and Member Syndicate Dr Mahboob Hussain, Media Coordinator Muhammad Waqar, faculty members and a large number of students have participated in this event.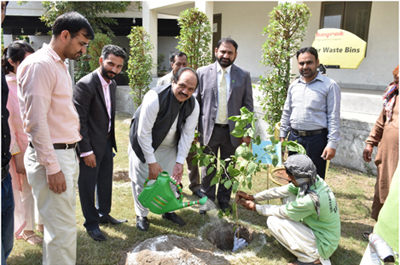 On this event Prof. Dr. Sajid Rashid Ahmad provoked an awareness thought among the participants from different organizations including Industry, NGO, Govt. Officials and students about green environment and harmful impacts of chlorofloro carbons (CFC and HCFC) on Ozone depletion. He further elaborated that the only way we have to eradicate these climate evils is the plantation of tree which will rehabilitate our environment as a source of fresh air.
Later, Dr Sajid Rashid and others planted fruit trees at the college's lawn.