March the 3rd was announced as the World Wildlife Day by the United Nations in 2013. This year's theme for World Wildlife Day, 2019 is "Life below water, for People and Planet".  On this day, a logo-making competition was held to celebrate World Wildlife Day, 2019 at Jallo Wildlife Park Lahore on Sunday 3rd March, 2019.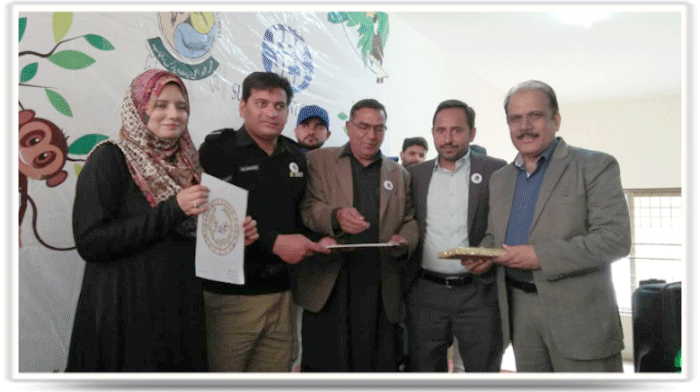 Syed Zafar ul Hassan Shah, Deputy Director Wildlife, Lahore Region was the Chief Guest and Assistant Director Wildlife Jallo Park, Mr. Ghulam Rasool Awan was the Organizer of the event. Being one of the guest speakers, Dr. Bushra Nisar Khan, Assistant Professor, Centre for Undergraduate Studies, University of the Punjab talked about importance of wildlife for healthy ecosystem. Many students and teachers from LCWU, UVAS Pattoki and Kinnaird Collage, Lahore also participated in this event. The organizer and Chief Guest of the event praised the role of Universities' teachers and students for better management and conservation of natural resources by doing research in the field of wildlife and ecosystem.
To celebrate the day, 30 logos were made by students of various universities.  All participating students enthusiastically presented different ideas in their respective logos about different species of birds and animals in Jallo Wildlife Park. After a thoughtful judgment, all three positions were won by the students of Centre for Undergraduate Studies, University of the Punjab.  Ms. Ifra Qaiser got 1st position, Ms. Mubarra Ashan got 2nd position and Ms. Fatima Tariq got 3rd position in the logo-making competition. The winners were awarded prizes and certificates.  At the end a walk for wildlife conservation and love was also arranged. The students were very grateful to Dr. Bushra Nisar Khan for her guidance. Prof. Dr. Faheem Aftab, Director, Centre for Undergraduate Studies has congratulated Dr. Bushra Nisar Khan and her team for winning all top three positions.