1st Prize Winner of Student Paper Contest Organized by Society of Petrophysicists and Well Log Analysts (SPWLA), June, 2019, Woodlands, Texas, USA
1st Prize Winner of Student Paper Contest Organized by Society of Petrophysicists and Well Log Analysts (SPWLA), June, 2019, Woodlands, Texas, USA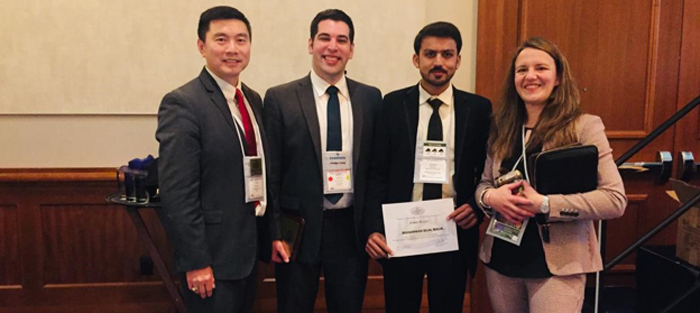 It is proudly stated that student of the Institute of Geology, University of the Punjab, Muhammad Bilal Malik (Reg. No. 2014-UGD-5), won 1st prize at Student Paper Contest held during 60th Annual Symposium in June, 2019, Woodlands, Texas, USA. Mr. Muhammad Bilal is first Pakistani to present paper in The Society of Petrophysicists and Well Log Analysts (SPWLA,
https://www.spwlaworld.org/
).
Bilal completed his B.S Geology under the supervision of Prof. Dr. Naveed Ahsan and Dr. Muhammad Armaghan Faisal Miraj.
It is worth mentioning the statement of Vice President SPWLA,
"For the first time someone came from Pakistan, presented paper and he won."
Katerina Yared Vice President SPWLA.