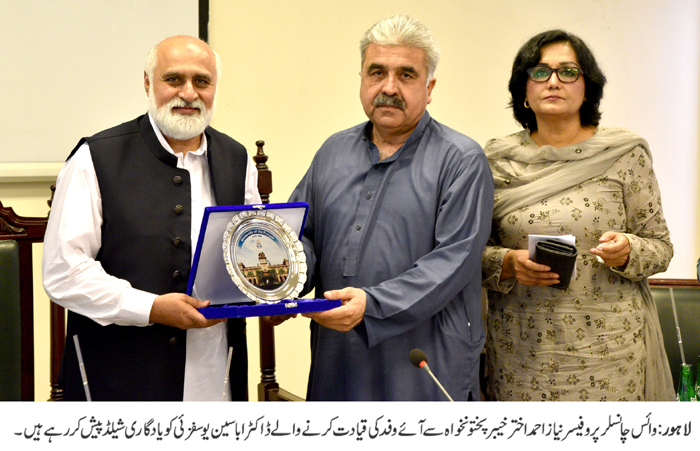 LAHORE: (Friday, July 12, 2019): A 12 member of delegation from Khyber Pakhtunkhwa (KPK) comprising professors and poets visited Punjab University as part of their culture exchange tour to Punjab province on a special invitation of Government of Punjab through Punjab Institute of Language, Art and Culture (PILAC).
The delegation was led by Professor Abaseen Yousafzai of Islamia University Peshawar, while other delegates included Jehan Sultana, Rokhan Yosafzai and others. Punjab University Pro vice chancellor Prof. Dr. Saleem Mazhar along with PU senior professors and poets received the delegation and issues of mutual interest were discussed at PU Undergraduate studies committee room. PILAC DG Dr. Sughra Sadaf was also present there.
Speaking on this occasion PU Vice Chancellor Prof. Dr. Niaz Ahmad Akhtar said that inter-provincial exchange visits should be organized regularly because these help bridge the distance and promote nationalism among all Pakistanis. He ensured his all-out cooperation to continue and increased such cultural exchange visits. The vice chancellor paid special thanks to PILAC DG Dr. Sughra Sadaf and PU PVC Dr. Saleem Mazhar for making this exchange visit all a success.
During the discussion issues related to national and local languages were pondered upon at a length and the dialogue participants emphasized that Urdu should be officially recognized and given due importance as the language of communication in Pakistan as per the vision of Quaid i Azam Muhammad Ali Jinnah while regional and local languages should not be crushed rather protected and promoted in a way that more words are added to Urdu dictionary from local and regional languages.