News & Events in University of the Punjab
SITE Food Fest 2017 at IAS-PU
SITE Food Fest 2017 at IAS-PU
Institute of Administrative Sciences organized the SITE Food Fest 2017 on Monday 13th February 2017. The food festival was the effort of BS (4 years) in Management students from Batch 2013-17 and 2014-16 as a part of their Entrepreneurship course. Entrepreneurship has its importance in public as well as social sector. Entrepreneurship is profit generating but yet responsible to give back to the society, and develop civic sense and character building aspects of individuals.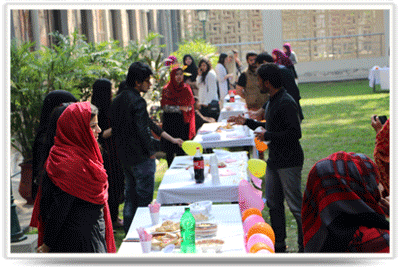 The event was presided over by Prof. Dr. Nasira Jabeen, Faculty members and course instructor, Dr. Shahid Zia supervised all the projects of students as part of entrepreneurship course with great support of Administrative Staff. Students participated in the event with various categories starting from presenting their business ideas to arranging varieties of food stalls. All faculty members appreciated this idea and encouraged the students' efforts.
At the end, Prof. Dr. Nasira Jabeen appreciated the course instructor, Dr. Shahid Zia for arranging this healthy activity as part of the course and boosting the talent of the students from ideas towards business.