LAHORE: (Tuesday, February 14, 2017): Punjab Higher Education Commission Chairman Prof Dr Nizamuddin has said that new ideas of young students would be marketed and the culture of entrepreneurship would be promoted in order to make degree holders job creators rather than job seekers. He was addressing the first-ever entrepreneurship gala organized by Hailey College of Commerce (HCC) in its 90 years history here on Tuesday. PU Vice Chancellor Prof Dr Zafar Mueen Nasir, Principal HCC Prof Dr Hassan Mobeen Alam, renowned entrepreneur Chaudhry Abdul Rehman, MPA Majid Zahoor, PTI leader Chaudhry Ijaz, chief organizer of the event Dr Fozia Ali, renowned businessmen and personalities from various walks of life, faculty members and a large number of students were present on the occasion.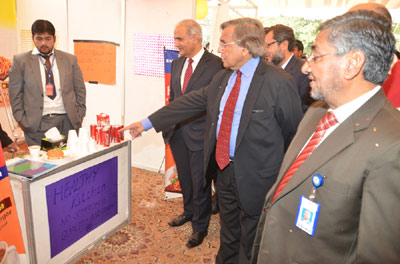 The mega entrepreneur gala was the first-ever event in which 600 students participated and presented 120 entrepreneur ideas at stalls. In the beginning of the ceremony, one-minute silence was observed and Fateha was offered for the victims of the recent blast in Lahore. Addressing the ceremony, Dr Nizamuddin said that the importance of commerce education had never been ignored and in the circumstances wherein Pakistan was facing several challenges, we must make efforts for strengthening this field. He said that incubations centres must be set up to market ideas of students. He said that we were setting up community colleges to provide entrepreneur opportunities to the students. He said that Pakistan was the 6th largest country of the world and our 60 percent population consisted of youth so we must equip our students with skills along with degrees.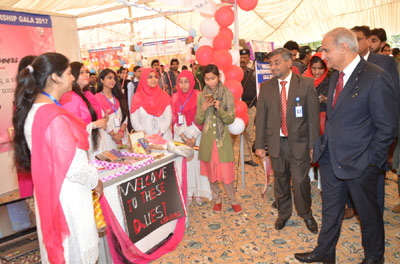 He congratulated PU VC Prof Dr Zafar Mueen on organizing the event a day after the blast which gave the message that we did not fear from any terrorist element. PU VC Dr Zafar Mueen said that today was a sad and the terrorists wanted to destabilize Pakistan. However, he said, we are united against such elements and we would foil their every attempt to weaken our country. He said that PU administration would polish indigenous talent of young students in order to compete at national level. On organizing the event successfully and showing outstanding performance, the VC announced 50 thousand rupees for chief organizer and HCC faculty member Dr Fozia Ali and 10 thousand each for the students who presented Tilawat, Naat and moderated the event and for 2 employees of the college. Addressing the ceremony, Chaudhry Abdul Rehman congratulated PU administration on successfully organizing the event and lauded that it was good news that a public sector institution had taken such a need-of-the-hour initiative. He said that today's event proved that terrorists could not shut our academic institutions. HCC Principal Prof Dr Hasan Mobeen Alam said that as many as 120 business plans had been presented in the gala. He said that the event was organized in order to restore confidence among students. He said that for the first time, an opportunity had been provided to the students of the college to face challenges and show their potential. Later, PU VC Dr Zafar Mueen Nasir presented cash prizes to the winning teams of the gala and presented shields to the guests.