LAHORE: (Tuesday, March 14, 2017): Punjab University Vice Chancellor Prof Dr Zafar Mueen Nasir has said that PU had singers of international standards and our talent would be highlighted at world level. He was addressing interdepartmental final round of Sofiyana & Arifana Kalam competition 2017 on Tuesday at Al-Raazi Hall.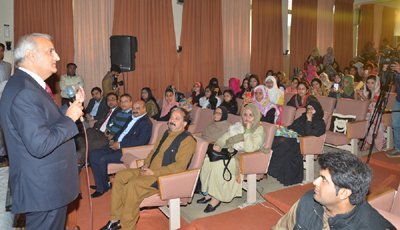 The event was organized by PU Directorate of Students Affairs which was attended by Director Shahid Mehmood Gul, Deputy Director Zubair Akram, faculty members and a large number of students. Renowned musicians including PU College of Art and Design's Assistant Professor Israr Chishtee, Wahdat Rameez and Ali Abbas were judges of the competition. The students presented Sofiyana & Arifana kalam in such beautiful voice that attracted huge applause from the audience.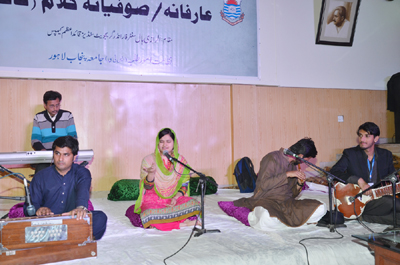 In his address, Dr Zafar Mueen Nasir said that PU students had extraordinary talent in this field and the administration would encourage and polish them. He said that positive activities were necessary for healthy mind and body. He lauded Director Students Affairs Shahid Gul and Deputy Director Zubair Akram on hunting the best talent in singing during trials at the time of admissions on co-curricular basis. In his address, Shahid Gul said that PU team had clinched 50 trophies in such national competitions this year. In boys, Muhammad Haroon, Muhammad Awais, Zartaj and Zafar Abbas Jaffery clinched first, second, third and fourth positions respectively while in girls Zainab Rehman, Saba Butt, Mehak Azam and Shabana Abbas obtained first, second, third and fourth position respectively.