News & Events in University of the Punjab
Department of Microbiology and Molecular Genetics (MMG) Celebrated '21st September, World Alzheimer Day'
Department of Microbiology and Molecular Genetics (MMG) Celebrated '21st September, World Alzheimer Day'
September 21, 2017: Department of Microbiology and Molecular Genetics organized one day symposium 'Awareness on Neurodegenerative Disorders' to celebrate 'World Alzheimer Day' (21st September). Dr. Mehboob Ahmed, Ms. Hafsa Amat ur Rasool, Dr. Samreen Riaz, Dr. Nageen Hussain, Dr. Saba Riaz, Dr. Muhammad Abid Sheikh, Dr. Yousra Saeed Malik, Ms. Warda Fatima and Ms. Ammara Khalid along with students were the organizers of the event.
The purpose of event was to aware university students regarding the importance of neurodegenerative disorders, a collective term used to describe a collection of diseases that cause neuronal damage in the human brain. Public health is greatly threatened by neurodegenerative disorders. The progressive loss of neurons result in movement problems called ataxias or problems in brain functioning called dementias. Dementias are responsible for the greatest load of neurodegenerative disorders, where Alzheimer's disease being most common type represent 60-70% cases of dementia.
The ceremony was commenced with the recitation of Holy Quran followed by Naat-e-Rsool-e-Maqbool (SAW). Chairperson Prof. Dr Anjum Nasim Sabri inaugurated the event with a welcome address. She thanks the speakers to spare their time and enlighten the participants.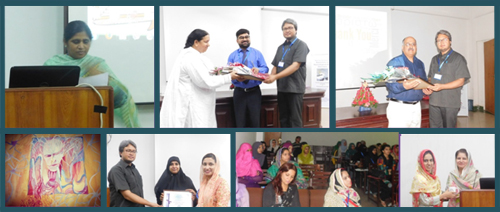 Dr. Syed Ahmed Ali Hassan, MRCP (UK), Associate Professor, Neurology Dept. Sheikh Zayed Hospital, Lahore delivered a very informative lecture on the topic of 'Exploring Neurodegeneration of CNS Diseases'. After that, Dr. Muhammad Adnan Aslam, FCPS (UK), Head of Department Neurology Dept. Fatima Jinnah Medical University, Lahore conveyed a comprehensive talk about the clinical spectrum of neurodegenerative disorders by focusing on the Alzheimer's disease. The third talk was given by Ms. Sadia Shahzeb, Student Counselor, The Student Counseling & Assessment Services, University of the Punjab related to the psychology of neurodegenerative disorders. Moreover, researchers from the MMG department, Dr Abid Sheikh and Ms. Hafsa Amat-ur-Rasool also presented their work in the domain of treatment options for neurodegenerative disorders.
The extract of talk from all speakers were:

•

Prevalence of Neurodegenerative disorders especially Alzheimer's disease is increasing.

•

Mostly these diseases are age dependent but other factors also stimulate them.

•

Progress of these diseases can be delayed but can't be cured. So early diagnosis of disease is necessary.

•

Patients need special attention and family members have to play vital role in management of patients.
To enhance the interest of students in the event posters and paintings competition on the theme of dementias was also arranged. Posters were judged by Prof. Dr. Shahida Hasnain and prizes were distributed among the winning students. A large number of students and faculty members participated in the event with enthusiasm and their feed backs showed that they had got much information from the lectures regarding the immense importance of the neurodegenerative disorders.