A Workshop on "Invention to Innovation Summit-2012" held at PU
LAHORE: (Monday, June 18, 2012): Minister of State for Science and Technology Rahila Shahadat Baloch said Monday that we should promote the culture of innovation and invention to provide jobs to our youth as well as to put the country on the path of economic prosperity. She was addressing the one-day 'Invention to Innovation Summit 2012' organized by Punjab University, in collaboration with Pakistan Science Foundation and Institute for Research Promotion. PU vice- chancellor Prof Dr Mujahid Kamran presided over the ceremony; while chairman Pakistan Science Foundation Dr. Manzoor Soomro, former chairman PSF Dr. Farid Malik and CEO IRP Abid.H.K Sherwani expressed their views on the occasion. She said that China and India are on the path of progress by adopting new innovative technologies. She also said that China is the biggest user of solar technology. She said that universities should promote the culture of research and stressed upon the universities that they should work to promote the culture of industry and academia linkages.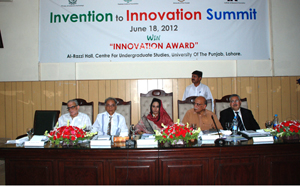 Addressing the ceremony, VC Dr Mujahid Kamran said that illiterate nations were bound to destroy and dominated by literate nations, therefore the first word of the Holy Quran "Iqra" urges the mankind to read. He said as many as 722 verses, which is 1/8 of the Holy Quran, stress for contemplation. He said the nations who ponder and think carefully before taking decisions and implementations remained successful. He highlighted the importance of education and emphasized that govt should spend at least 4 to 5 percent of GDP if our nation has to stand up in his with developed nations. He said that education is the only way of progress in the world and without investing in education no nation can progress.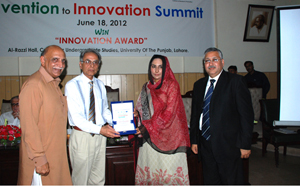 Dr. Manzoor Soomro said that there should be consistency in the policies and policies should be made in the national interest and whatever government will come they should follow the policies. He said that despite the financial constraints PSF is working for the promotion of science and technology in the country and its doors are open for all the stake holders including private sector who want to work for the progress of the country.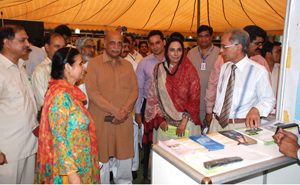 He said that young people should be promoted adding that an academia and industry linkage is must for success. He further said that they are planning to sign a Memorandum of Understanding (MOU) with Lahore Chamber of Commerce and Industry (LCCI) for developing a close liaison between PSF and LCCI. Dr. Farid Malik in his key note address suggested that there should be a major restructuring in the ministry of science and technology. He also suggested that Pakistan Technology Board should be revived. He said we should prioritize the sectors and focus on them for example energy, textile, agriculture and livestock, telecommunication and information technology should be our focus.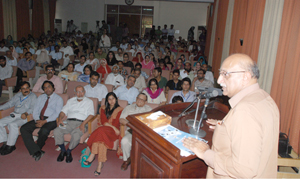 He said that we should change this perception that science is a romance and not finance. He also said that research should be used for public welfare. Abid.H.K Sherwani said that summit has provided a platform to move forward on the path of innovation and invention. He said that steps should be taken for the commercialization of innovative products. He said that technology should be transfer to industry so that people can benefit from innovation. He said that in the exhibition 10 stalls were set up by industry and almost 10 stalls were set up by academia. In his concluded remarks Institute of Chemical & Engineering Technology Director Prof Dr Aamir Ijaz thanked the participants of the workshop.