Lot of reforms driven by foreign powers: PU VC
LAHORE: (Monday, July 02, 2012): Punjab University Vice Chancellor Prof Dr Mujahid Kamran has said that a lot of reforms were driven by foreign powers in the country with the goal of setting up One World Government. He was addressing a book launching ceremony of Prof Dr Aamir Saeed entitled "Making Sense of the Implementation of Hospital Autonomy Reforms in Pakistan" at Center for Undergraduate Al Raazi Haal here on Monday. Dean Faculty of Economics and Management Sciences Prof Dr Ehsan Malik, Institute of Administrative Sciences Director Prof Dr Nasira Jabeen, former CEO Jinnah Hospital and renowned orthopedic Dr Aamir Aziz, renowned analyst Prof Dr Mujahid Mansoori, senior faculty members and a number of students were also present on the occasion. Dr Kamran said that it was for us to solve our problems instead of receiving instructions from foreign NGOs like USAID.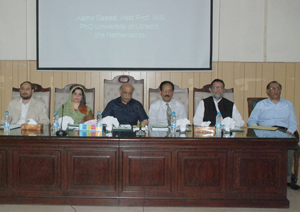 The VC said that the cabal of rich families wanted to establish one world government and for the purpose they introduced the system of usury, divided mankind and imposed wars. He said that the cabal owned all the top banks and corporations. He said the cabal of international bankers controlled US government, media and congress. He urged the participants of the seminar to keep an eye on what was happening in the world. Prof Dr Mujahid Kamran also appreciated the efforts of Dr Aamir Saeed. Dr Ehsan Malik said that there was difference between what we said and what we did. He said that we should promote tolerance and co-operate with each other. He said that we should abolish our worldly wishes and should work for the nation. Dr Mujahid Mansoor said that we should adopt participatory approach while solving problems and involve intended beneficiaries in the process. He said that we were facing acute problems due to disorder and mismanagement in spite of the best human resource available in health sector. Dr Aamir Aziz said that route of all the ills was bureaucracy and it was the worst legacy that British have left. He said that generals and non-technical persons could not run educational institutions and hospitals. He said that medical institutions should be governed by doctors. He said that hospital's autonomy was the only way forward to resolve recent crisis we were facing. He said there should be reasonable service structures for doctors. Dr Amir Seed said that the autonomy of the hospital was a foreign agenda and it was being implemented with local amendments. He said that the government was ultimate responsible for healthcare services for everyone. He said that administrative autonomy & commensurate responsibility to the hospitals. He said that healthcare services should be provided to all the people at doorstep. He said that reasonable service structure for doctors and paramedics should be provided. Dr Nasira Jabeen thanked all the participants and lauded PU VC Dr Mujahid Kamran for promoting research culture on campus.