Shining students of PUMUN lauded
LAHORE: (Monday, July 16, 2012): Punjab University has hosted a dinner in the honour of students who showed outstanding performance in Model United Nations conferences.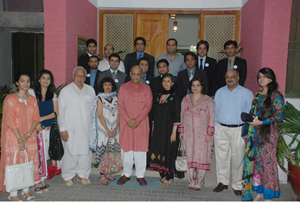 PU Vice Chancellor Prof Dr Mujahid Kamran, Advisor Students Affair Prof Dr Rafique Ahmed, Prof Dr Shaista Sonnu Sirajuddin and Ayesha Fatma Burq were also present on the occasion. A delegation of PU students including Nishat Kazmi, Zeeshan Nadeem, Muhammad Bilal Ramzan, Muhammad Nawaz, Ameer Hamza Dogar, Muhammad Umar Riaz, Affan Taj, Irtezza Afzaal, Nadeem Irshad, Muhammad Umair Ikram from University Law College, Sher Afghan Malik from IAS, Raza Bakir Shah from IBA, Muhammad Saqib from ICET, Uneza Hamid from ICS, Fatima Zehra CAD, Kanza Khan from IBA, Anam Afzal from ICS, Saad Iqbal from CAD and Amir Ejaz from PUCIT participated in Model United Nations conference in the country and abroad and achieved various titles.

Congratulating the students, Dr Kamran said that students must have strong grasp of their subjects to excel in the relevant fields in future. Later, certificates were distributed among the students.