PUASA organizes anti-film walk
LAHORE: (Tuesday Sep 18, 2012): A large number of male and female members of Punjab University Academic Staff Association led by Vice Chancellor Prof Dr Mujahid Kamran took out a rally from Undergraduate Study Centre to New Campus bridge to condemn blasphemous film against Hazrat Muhammad (SAW) here on Tuesday. PUASA Acting President Dr Ehsan Sharif, Secretary Javed Sami, Prof Dr Shaukat Ali, Prof Dr Mansoor Sarwar and Prof Dr Rukhsana Kausar were prominent among the participants.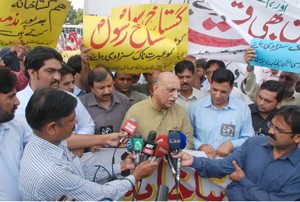 The protestors were holding banners and placards inscribed with anti-American and pro-Namoos-e-Rasalat utterances. The teachers were chanting slogans against the conspiracy to disrupt the world peace through a recent attempt which has badly smashed up the emotions of over 1.5 billion Muslims throughout the world.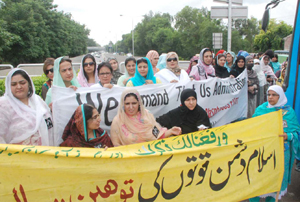 The teachers' rally was peaceful as they avoided disturbing the flow of traffic and reached the campus bridge negotiating the corners of the one side of the road. Talking to reporters, Dr Mujahid Kamran said that American people were not our enemy but a high cabal of families who wanted to establish One World Government. He said that our faith could not be completed unless we protected the respect of Hazrat Muhammad (SAW) and any blasphemy meted out to our beloved Prophet was not acceptable to any Muslim. He said that the Muslims must focus on education in order to fight enemies as knowledge was the headspring of power and wealth.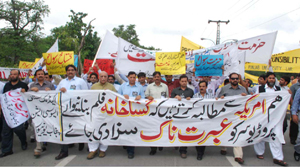 He said that the Muslims were facing all their problems because of deviation from the lesson of 1/8th part of the holy Quran which urged the mankind to resolve mysteries of universe. He urged the government to allocate at least four percent of GDP to education in order to prepare for the unavoidable war. He also demanded of the government for compulsory army training in this regard. Earlier, the Punjab University Academic Staff Association held a general body meeting at Al-Raazi Hall of Undergraduate Study Centre with Acting President Dr Ehsan Sharif in chair. In the meeting, the teachers strongly condemned and expressed their anger on the broadcast of blasphemous film. In his presidential address, Dr Ehsan Sharif said this conspiracy would led to destruction of world peace if it was not controlled.

He said that all the religions teach the lesson of religious harmony but some Jewish and Christian extremists, whose strings were being controlled by the bankers, wanted to create a reason for them to enter forces into various Islamic countries. He appealed Pakistan government to take up this issue with United Nations representing the Islamic world. The ASA resolution also sought ban on broadcast of the blasphemous film and punishment for its makers.