Young PhDs could help bridge gap between Academia-Industry: PU VC
LAHORE: (Thursday September 20, 2012): Punjab University Vice Chancellor Prof Dr Mujahid Kamran has said that young PhDs are playing their role in better research out put and they can help bridge gap between academia and industry. He was speaking at a workshop organized by Punjab University's Office of Research, Innovation & Commercialization (ORIC) on "Platform for bridging Academia-Industry linkage" at Centre for Undergraduate Studies. ORIC Director Amir Ejaz, resource person Mr Siddiq-ur-Rehman, CEO of Technology Exchange and Coordination (TEC), heads of various departments and a large number of faculty members participated in the event.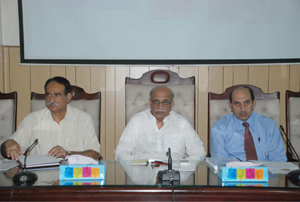 Dr Kamran said that all such departments which were not doing research in the past were now producing PhDs. He said that young PhDs would be helpful in promoting academia's relationship with industry. Presenting a roadmap for Academia-Industry relationship, Mr Siddiq-ur-Rehman they had established Industry Resource Centre at Sundar Industrial State and its major components were SME Development Centre, Knowledge Shop and Large Industry. He said the agenda of Knowledge Shop, which was being established with the help of Higher Education Commission, was to provide all kind of knowledge input to industry under one roof, create consortium of universities, transfer and adaptation of technology, research and testing by backward linkages, human resource covering all types of skills and point out 2030 vision of talent requirement. He said that less than 10 percent of potential was being utilized because of lack of marketing. He said that the economic challenges being faced by the country were energy crisis, trade deficit, lack of investment, reduction in foreign aid, economically growing neighbours and instability. He said that import substitutions, optimum utilization of available industrial potential, optimum utilization of human resource, academia and professionals and fast pace and wide spread industrialization were the way forward to build a sustainable economy.

He said that setting up of universities' industry liaison office at industrial state, assignments to students and faculty members and joint projects could bridge gap between academia and industry. Earlier in his inaugural address, Dr Ejaz said that Dr Kamran had already taken a right step of establishing ORIC in 2010 which aimed at developing, expanding, enhancing and managing the university's research programs and to link research activities directly to educational, social and economic priorities of the university and its broader community. He said that the ORIC was also responsible for assuring that the quality of research currently being carried out at the university reflected the highest international standards and through monitoring, enhance the varsity's reputation among the world's leading research institutions. He said that the aim of today's workshop was to identify technological needs of our country and point out how the academia could apply their knowledge and expertise to propose workable strategies that our industry may embrace to do fuller justice to its vital role in the country's development.