LAHORE: (Tuesday, May 8, 2018): Punjab Higher Education Commission Chairman Prof Dr Nizamuddin has stressed the need to translate modern knowledge into Urdu language as the nations who were progressing are translating latest scientific developments in their own languages. He was addressing the third degree awarding ceremony of Punjab University Oriental College at Sherani Hall on Tuesday.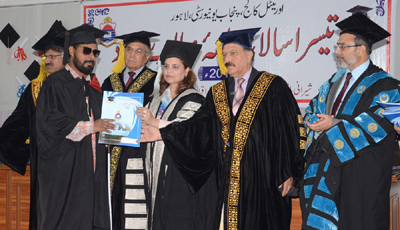 PU Vice Chancellor Prof Dr Nasira Jabeen, Dean Faculty of Oriental Learning Prof Dr Saleem Mazhar, Registrar Dr Muhammad Khalid Khan, Principal Professor Dr Fakhrul Haq Noori, senior faculty members and a large number of students were present on the occasion.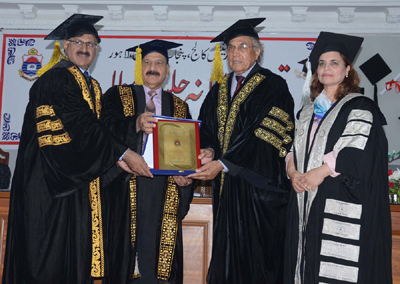 Addressing the ceremony, Dr Nizamuddin said that the medium of instructions in the academic institutions of China, Turkey, Iran and Korea was their national languages. He said that there were around 7400 translations every month in Iran and they were making efforts to promote knowledge in their own language. He said that there was need to strengthen institutes of translation in Pakistan to enhance quality of education. He said there was need to establish language labs to resolve language learning related problems. He said that PHEC would support such projects initiated by academic institutions of higher learning.

Addressing the ceremony, Dr Nasira Jabeen said that we needed to learn both conventional and modern fields of knowledge and there was need to maintain balance between Eastern and modern traditions. She said that literature played role in producing fine human beings. She said that our youth was our future and asset. She said that the nation was very hopeful from young people that they would contribute to development of Pakistan. She advised the graduating students to uphold high moral values learnt in the college in their professions, remain loyal to the country and not to become part of negative politics. As many as 194 degrees were distributed among the students of master's degree program of Urdu, Arabic, Persian, Punjabi and Kashmiriyat who completed their sessions in 2015 and 2016 while 5 M Phil degrees were also awarded.