Seminar on "Energy Crisis & its Solutions" held at PU
LAHORE: (Wednesday, June 13, 2012): Punjab University Centre for Coal Technology (CCT) conducted a Seminar on "Energy Crisis and its Solutions". Director CCT Prof Dr Shahid Munir, former Deputy Managing Director SNGPL Nadeem Shahryar, Additional Secretary Energy Department Khalid Awais Ranjha, CEO Sindh Engro Coal Mining Co. Shams-ud-Din Sheikh, former Chairman Pakistan Science Foundation Dr Farid Malik and DG PCSIR Laboratories Lahore Dr Shahzad Alam presented their expert ideas regarding the solution of Energy Crisis. Prof Dr Shahid Munir presented a critical review of Thar Coal underground gasification project and declares it unfeasible from technical & economical point of view. He emphasized on the open pit mining of Thar Coal for better utilization.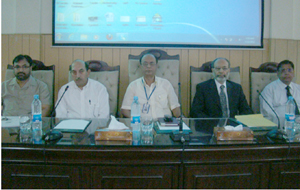 He further stated that through proper resource management, 100,000 MW electricity can be generated for 500 years. Other speakers also emphasized the open pit mining of the Thar Coal, so that it can be utilized through already proven technologies. While underground coal gasification can be continue on experimental basis. He said that there is a dire need to redesign the energy mix of Pakistan. He suggested that 67% share of oil and gas to generate electricity should be shifted to coal power generation. Dr Shahzad Alam emphasized on the energy conservation to cope the energy crisis. Shams-ud-Din Sheikh and Dr Farid Malik stressed the need for coal mining so that foreign direct investment may be brought in. The participants demanded from the government to take necessary action to expedite the mining process in Thar. Seminar was concluded with a note to redesign the energy mix of Pakistan. The consensus was developed that 60% of the electricity should be generated from coal, 30% from hydel and 10% from renewable. PU Registrar Prof Dr Rass Masood Khan, energy experts, faculty members and a large number of students were also attended the seminar.