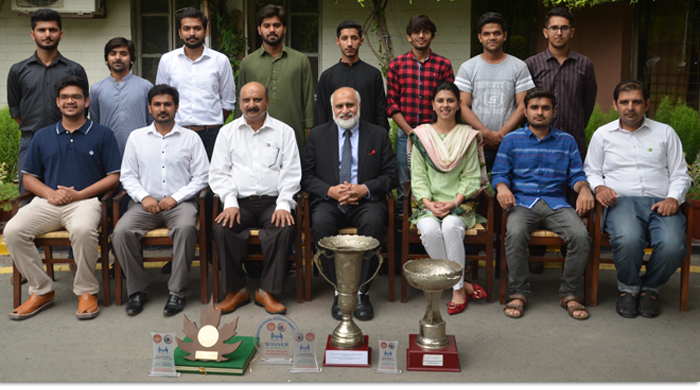 Results of Challenge the Limits Online Competition During Covid 19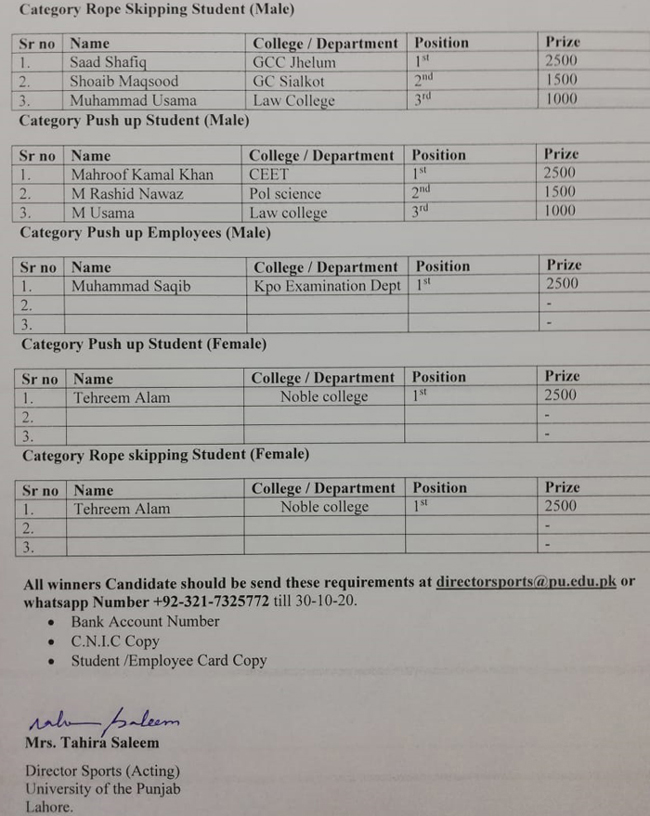 ALL PAKISTAN ONLINE NAAT COMPETITION 2020
POSITIONS AND CASH AWARD WINNERS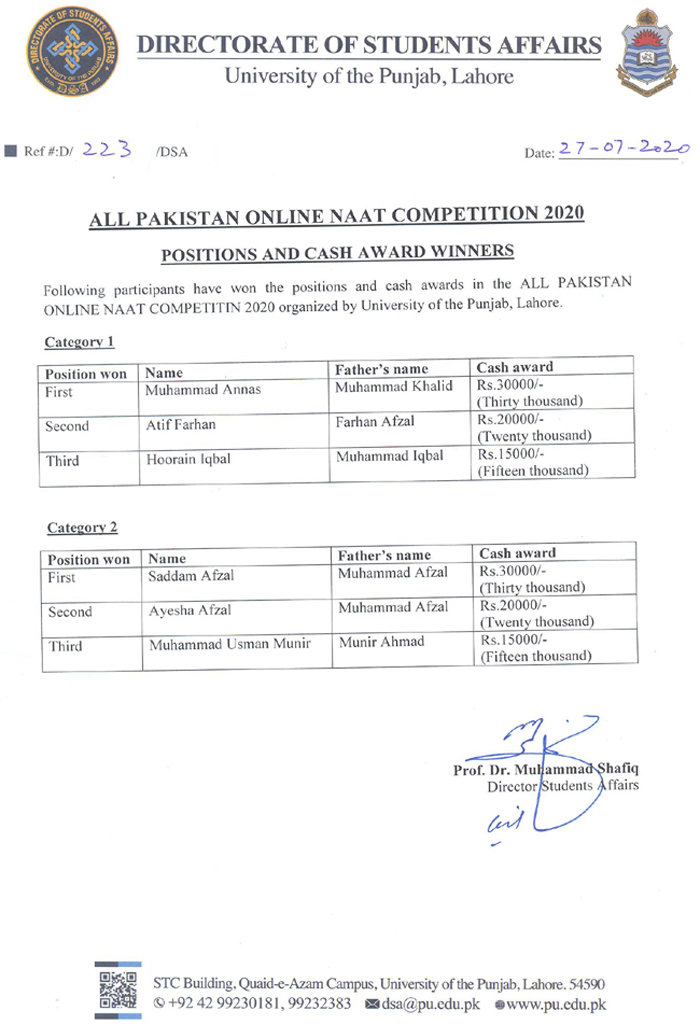 ALL PAKISTAN ONLINE QIRAAT COMPETITION 2020
POSITIONS AND CASH AWARD WINNERS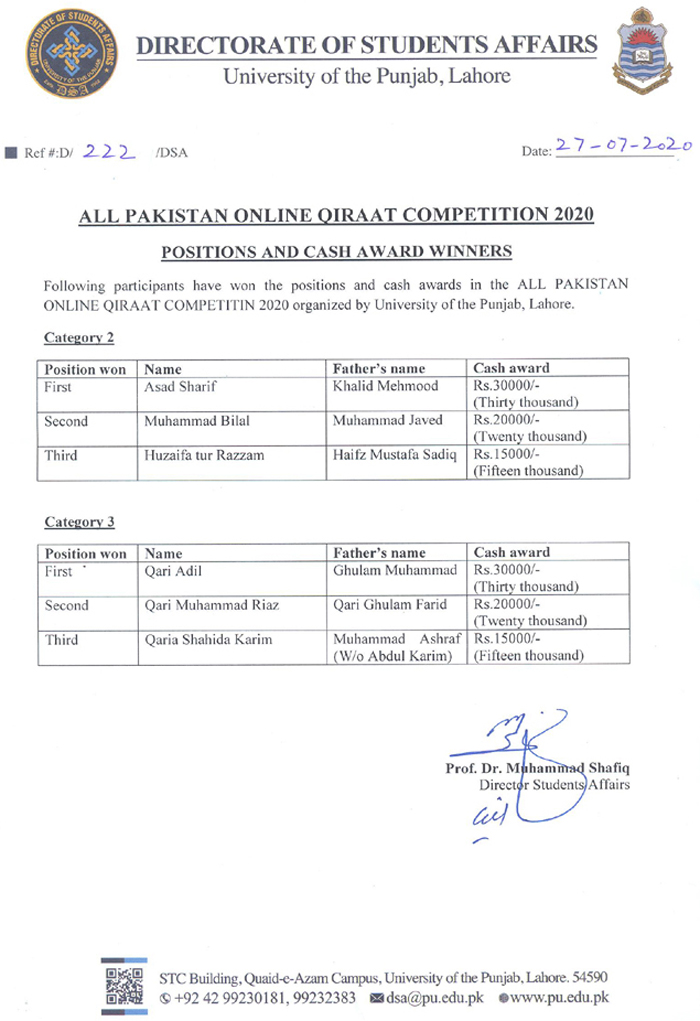 ACHIEVEMENTS OF PUNJAB UNIVERSITY STUDENTS IN QUIZ COMPETITION REGARDING 25TH DECEMBER (QUIAD'S DAY) ORGANIZED BY PAKISTAN TELEVISION CORPORATION LIMITED (PTV), LAHORE ON 19TH DECEMBER, 2019

The Directorate of Students Affairs feels honor to inform about the achievement of Punjab University Students in Quiz Competition regarding 25th December (Quiad's Day) organized by Pakistan Television Corporation Limited (PTV) Lahore held on 19th December, 2019. The details are as under:

Participant Name
Department
Position
Ahmad Ijaz
Department of Space Science
1st
Tauqeer Ahmad
University Law College   
Achievements of Punjab University Students in various All Pakistan Intervarsity Competitions in the month of February, 2019

The Pakistan Red Crescent, Punjab Provincial Branch, Lahore organized Inter University Urdu Declamation Competition on Monday, the 11th February, 2019. More than twenty students from different Universities/Colleges of Lahore participated in this competition. The following Punjab University Student got 1st position.

Participants Name

Institute                                                  

Position

Cash Prize

Mehral Qamar

College of Pharmacy

1st

Rs. 5000/-
ALL PAKISTAN BILINGUAL DECLAMATION CONTEST 2019 ORGANIZED BY QUAID-E-AZAM COLLEGE OF ENGINEERING & TECHNOLOGY, SAHIWAL FROM 13-02-2019 TO 14-02-2019

Competition

Participants Name

Institute

Position

English Debate
(Serious)

Syed Daniyal Haider

Institute of business Administration

Team Trophy

Urdu Debate
(Humorous)

Abubakar

Department of Gender Studies
"UCP TAAKRA' 19" organized by University of Central Punjab, Lahore from 20th to 24th February, 2019

"UCP TAAKRA' 19" organized by University of Central Punjab, Lahore from 20th to 24th February, 2019. The Punjab University students secured 16 First Positions and 07 Runners Up positions and also won Overall team Trophy in "UCP TAAKRA' 19". More than 100 educational institutions across the Pakistan participated in 18 Categories and 40 different competitions. Punjab University students team also received cash award of Rs.1,00,000/- and "UCP TAAKRA' 19 Team Trophy". The details are as under:-

Competitions

Position

Cash Prize Rs.

Naat

1st

20,000/-

Tekken 7

1st

20,000/-

Book Trivia

Runner Up

10,000/-

Trilingual Declamation

Team Trophy
Punjabi Debate 1st
English Debate 1st
Urdu Debate 2nd

30,000/-

Marketing Fixture

Runners Up

10,000/-

Corporate Investigation
(Case Study)

1st

50,000/-

Laughter Disaster
(Stand up Comedy)

Runner Up

5000/-

Dekh Tamasha
(Theater)

Best Play Award

20,000/-

Best Production Award

10,000/-

Best Actor (male) Award

10,000/-

Best Director

10,000/-

Dance Individual

1st

10,000/-

Dance Group

1st

20,000/-

Code Master

1st

20,000/-

Badminton Girls

1st

20,000/-

Tug of War

1st

20,000/-

Futsal

1st

20,000/-

Futsal

Runner Up

10,000/-

Arm Wrestling

1st

10,000/-

Swimming
(Individual Medley 200m)

Runner Up

10,000/-

Swimming
(Butterfly 50m)

Runner Up

10,000/-

Swimming
(Back Stroke)

Runner Up

10,000/-

Over All Trophy

1st

100,000/-

Total Cash Prize received Rs.

355,000/-
Forman Lahore Debate Open '19 Championship organized by Forman Christian College (FCC), Lahore from 22nd to 25th February, 2019

Competition

Names of Team Members

Institutions

Position

English Parliamentary Debate
Muhammad Ali
Punjab University College of Information Technology

Team Trophy

Taimoor Khan
University Law College
BEST SPEAKER AWARD:

Name of participant

Department

Position

 Shahzaib  
University Law College

Best Urdu Speaker
THEATRON National Drama Festival being organized by Institute of Business Administration, University of Karachi from 26th to 28th February, 2019

Participants Name

Department

Position

Cash Prize

Mohsin Baig
Department of Gender Studies

CHAMPIONS TEAM TROPHY

Rs. 100,000/-

Muneeb Malik
College of Information Technology
Sumbal Zafar
Department of Gender Studies
Salman Haider
Institute of Business Administration
Zainab Dawood
Institute of Chemical Engineering & Technology 
Bilal Saeed
Hailey College of Banking & Finance
Bilal Khan
Hailey College of Commerce
Bilal Azeem
Institute of Communication Studies
Shahid Ahmed
Institute of Communication Studies
Malik Ahsan
Institute of Communication Studies
Zartash Anum
Department of Zoology
Yasir Waseem
Institute of Communication Studies
Junaid Aurangzaib
Institute of Administrative Sciences

The Govt. College University Lahore, Quaid-e-Azam University Islamabad, NUMS Islamabad, Agha Khan University, Iqra University, Greenwich University etc. were among the 25 leading Universities who participated in this biggest National Drama Competition of Pakistan.
6th All Pakistan Literary Festival organized by University of Engineering & Technology, Lahore from 11-05-2017 to 12-05-2017

Competition

Participant

Institutions

Position

English Essay Writing
Fatima Hasnain
Department of English

1st

English Poem
Ayesha Yaseen
Department of English

3rd

Urdu Ashra
Raqayya Malik
Institute of Social & Cultural Studies

2nd

English Short Story
Hira Rafeeq Rao
Department of English

2nd

Urdu Maza'h
Mustafa Mendi
Department of Urdu

3rd

Urdu Nazm
Maisam Abbas
Institute of Communication Studies

3rd

Urdu Afsana
Iram Rafeeq
Department of Urdu

2nd

Punjabi Nazm
Mubashir Saeed
College of Pharmacy

3rd

Bait Bazi
Musa Kazim
Institute of Applied Psychology

3rd

Maisam Abbas
Institute of Communication Studies
LGU Bilingual Declamation Competition for Allama Iqbal Shield organized by Lahore Garrison University, Lahore on 11-05-2017

Competition

Participant

Institutions

Positions

Bilingual Declamation
Ismail Sherwani (English)
Punjab University College of Information Technology

1st

Shahbahat Qamar (Urdu)
College of Pharmacy

1st
1st Annual Bait Bazi Competition regarding GEM OLYMPIAD 2017 organized by Gujranwala Medical College, Gujranwala on 11-05-2017

Competition

Students Name

Department

Positions

Bait Bazi
Tahir Javed
Hafiz Shar
Institute of Business Administration

1st
3rd GCU All Pakistan Inter Collegiate & Inter Universities Quiz Competition 2017 organized by Govt. College University, Lahore on 10-05-2017

Competition

Participant

Department

Positions

Quiz
Atif Shahfiq
University Law College

3rd

Asad Raza Mohal
All Pakistan Poetry & Bait Bazi Competitions at Fatima Jinnah Medical University, Lahore on 10-05-2017

Competition

Participant

Department

Positions

Bait Bazi
Musa Kazim
Institute of Applied Psychology

1st

Sohaib Mugheera
Institute of Communication Studies
Urdu Nazm
Sohaib Mugheera
Institute of Communication Studies

1st

Afsana
Mustafa Mendi
Department of Urdu

1st

Urdu Nazm
Mubashir Saeed
College of Pharmacy

2nd

Afsana
Mubashir Saeed
College of Pharmacy

2nd
2nd Syed Ghassan Azhar All Pakistan Drama & Stand-up Comedy Competitions organized by University of Lahore, Lahore from 08-05-2017 to 10-05-2017

Competition

Participant

Department

Positions

Script Writing
Sohaib Mugheera
Institute of Communication Studies

1st

Stand-up Comedy
Asim Ch.
Institute of Communication Studies

1st
All Pakistan Business Idea Competition 2017 organized by University of Lahore, Lahore on 02-05-2017

Names of Team Members

Institutions

Position

Cash Prize

Hajra Javed
Syed Joahn Hassan
Salar Ehsan
Saad Arshad
Saqib Ali
Harmain Salman
Institute of Business Administration

1st Position

15,000/-
FUNKARIYAN'17 - An Inter-University Drama and Stand-up Comedy Competitions organized by University of Central Punjab, Lahore from 25-04-2017 to 28-04-2017

Competition

Students Name

Department

Positions

Drama

Wajahat Aurangzaib

Institute of Business Administration

Best Production Award

Mohsin Baig

Department of Gender Studies

Waleed Khalid

College of Engineering & Emerging Technology

Drama

Hammas Hameed
Institute of Communication Studies

Best Direction Award

Drama

Feroz Butt
Institute of Communication Studies

Best Actor Award

Drama

Zarbha Khan
Institute of Communication Studies

Best Supporting Actress Award

Drama

Zain ul Abdeen
Institute of Social & Cultural Studies

Best Supporting Actor Award

Drama

Hammas Hameed
Institute of Communication Studies

1st
(BEST PLAY)

Sohaib Mugheera
Institute of Communication Studies
Wajahat Aurangzaib
Institute of Business Administration
Sara Tariq
Institute of Administrative Sciences
Feroz Butt
Institute of Communication Studies
Zain ul Abdeen
Institute of Social & Cultural Studies
Zarbha Khan
Institute of Communication Studies
Arsalan Akram
Centre for High Energy Physics
Mohsin Baig
Department of Gender Studies
Azmat Majeed
Institute of Social & Cultural Studies
Asim Ch.
Institute of Communication Studies
Sumbal Zafar
Department of Gender Studies
Malik Ahsan
Institute of Communication Studies
Khula Jamal
College of Arts & Design
Waleed Khalid
College of Engineering & Emerging Technology
Komal Idrees
Institute of Social & Cultural Studies
Raamis Ali
Institute of Communication Studies
Mutahir Abbas
Institute of Communication Studies
Sibite Hassan
Institute of Social & Cultural Studies
Subaina Javaid
Institute of Business Administration

Stand-up Comedy

Asim Ch.
Institute of Communication Studies

Runners Up
Achievements of Punjab University Students in Chief Minister's Qiraat & Naat Competitions 2017 (Female Category), Provincial Round on 26-04-2017

Names of Participants

Institutions

Position

Cash Prize

Sadia Ashraf
Department of Zoology

1st

100,000/-

Samman Ali
Sheikh Zayed Islamic Centre

3rd

50,000/-
Achievements of Punjab University Students in Chief Minister's Qiraat & Naat Competitions 2017 (Male Category), Provincial Round on 25-04-2017

Names of Participants

Institutions

Position

Cash Prize

Muhammad Usman Munir
Institute of Business & Information Technology

1st

100,000/-

Hafiz Asad Sharif
Hailey College of Commerce

2nd

75,000/-