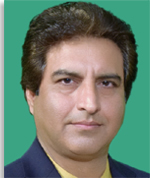 Summary: Contributing to the field of Mass Communication as an academician, researcher, PR practitioner, broadcaster, journalist and media consultant for over 25 years.
Objective: To introduce practice oriented skill base teaching methodology with emphasis on helping students develops writing and speaking skills for print and electronic media.
Research Supervision:
Presently supervising 2 PhD theses and have supervised 30 MPhil theses.